Moovly Studio: detailed features overview
Listed below is an in-depth description of all Moovly Studio features. Most of these features are available or can be tested with a Free Moovly account. Find out which subscription plan fully unlocks the feature you're interested in!
1. Video creation and editing
Browser based, drag-and-drop video creation
Moovly Studio is a powerful, cloud-based video editor that works within your web browser. There is no need for software or plugin installation, and you never have to update your application. Access and edit your video projects from any computer at home, work or school, any time.
Upload your own images, sounds and videos
To create your videos with Moovly Studio, you can either use the built-in media libraries or use any photo, screenshot, illustration, sound, voice recording or footage you have on your computer, smartphone or other devices. Upload them via your browser or via the Moovly app on your smartphone or tablet.
Use over 120 million royalty free media objects
Moovly Studio comes with huge stock libraries where you'll find all the images, sounds, music and stock videos you'll need to create your new video content. All these media objects are royalty free to use so there's no need to worry about copyright when you use these pictures, music or videos as part of website videos, commercial tutorials or YouTube videos.

Read more
Create videos in any style 
With Moovly Studio, you can create videos in any style: cartoon style videos, whiteboard videos with hands drawing and writing, documentary style footage-based videos, animated illustrations and motion graphics, or your own mix of styles. Companies, large organizations or brands can also create videos in their own brand style. 
Create videos in any shape 
Whether you prefer a standard horizontal 16:9 video for YouTube or a television screen, or a square or vertical video for your social media posts: Moovly Studio lets you create videos in a variety of horizontal or vertical shapes. You can easily duplicate a video project, change its format and rapidly adjust its content to the new dimensions.
Add animations and transitions 
Any visual object you use in your video – image, text or video – can be animated independently, including popular animation effects like fade, fly, wipe, bounce, move, zoom, rotate… and many more! Even hand animations with different hand types are available. Moovly Studio also contains many transparent motion graphics you can use as transition effects, television-style lower-third banners or overlay effects.
Do amazing things with video objects 
Whether you use your own video recordings, stock footage or existing videos, Moovly Studio allows you to mix and edit them in many creative ways. From simple operations such as splitting or trimming a video, to resizing, rotating, cropping, changing volume level: it's all possible. Speed up a video or make it slow motion, play with opacity, mix transparent videos, build a mosaic of videos, loop a video object or pause it…  
Add music, sounds and voice 
Add one or multiple sound tracks to your video: voice-over, background music, supporting sounds… You can use as many parallel sound tracks as you want and control their volume level, apply fade-in/out effects, split sounds… Record your own voice or use the AI text-to-Speech feature. And choose royalty-free background music or special sounds from more than 100,000 free audio tracks.
Convert text to voice-over
Enter your written text and convert it to voice-over with the click of a button. Choose from over 20 languages and from multiple voices per language. Our AI text-to-Speech (TTS) service uses advanced deep learning technologies to synthesize natural sounding human speech.
Add text and animate it
Add text objects to your video and animate them the way you like. Choose from a long list of standard fonts or have your own organization's fonts installed. Make your text objects appear or disappear with a variety of animation effects: from a simple fade, fly or wipe in/out to the more advanced hand writing, typewriter or bouncing effects. 
Record your webcam or your screen  
Record yourself or your screen to make your explainer or tutorial videos more attractive. Your screen or camera recordings become video objects you can treat like other footage: you can resize, split, crop, animate, combine them with other parallel videos, add music or voice and overlay them with other visual objects (illustrations, arrows, text) to enrich the viewer experience.
Remove a color from images or videos 
Make the background of a picture or video transparent, so you can put the front object(s) against a different background – a technique also known as chromakey. Remove a green screen or other color from any uploaded image or footage, or from any of our many stock videos with green screen areas.
Add AI subtitles to your videos – or generate them automatically
Add AI subtitles (or closed captions) to your video and easily synchronize them with your content. Or use the automatic subtitle generation to convert any voice audio to subtitles. Choose any font you like and apply a (transparent) subtitle background color if appropriate. Export your subtitles as standard SRT, CSV or XLIFF files or import subtitle files with the same format.
Automatically translate your text and subtitles 
Convert all text content and/or subtitles automatically to any language using the Google Translate integration in Moovly. Your translated video is ready in seconds – literally. Generate as many subtitle tracks in different languages as you need, or create separate video projects per language. 

Read more
Group content into Clips 
Easily structure your animated objects in a group or a scene – we call these "Clips". You can move Clips, copy and paste them, and even save them for later reuse. As such, Clips can serve as mini-templates to quickly build new video content. You can also kickstart your video creation using the ready-made Clips available in the different object libraries.
Import PowerPoint files
Does your story already exist in a PowerPoint slide deck? Then no need to retype all your text or upload every image. With only a few clicks you can convert it to a video. After uploading your presentation, it will be transformed into a video with the same name. Once imported, you can adjust timings, add animation effects, music, voiceover and other magic!
2. Video sharing, downloading and publishing - exporting
Download your videos
When your video is ready, you can download it in a choice of MP4 resolutions:
Standard Definition quality (SD 480p)
High Definition HD Ready (HD 720p)

High Definition 

Full HD (HD 1080p). 
Publish directly to video hosting sites 
If the destination of you video is your channel on YouTube, Vimeo or Facebook, you can publish your video directly from your Moovly account to your personal channel on these video hosting sites. 
Publish your videos on your Personal Gallery page 
You can publish your video to the Moovly User Gallery, share its link with your audience or embed it from there. You have your own public Personal Gallery page, enabling your visitors to view or embed your content, and even use your projects as a template for their own content. You can also keep your video hidden from the Gallery and limit your audience to people who know the link.
Share your video projects with other users 
Every Moovly project can be shared with other Moovly users, who can either view, copy or even edit your project, depending on the right you give them. With the View right, the other user can only watch your video. The Copy right gives a user the possibility to copy your project and use it as a template for a new project. And with the Edit right, the other user can make changes to your video project or add new content to it.
Use your videos as presentations 
A Moovly video project can be used as in a presentation format by adding predefined pause points to the video. Just put your video – or a copy of it – in Presentation Mode. At playback, your video will automatically pause at these pause points, giving you a "slide-like" pause view with impressive animated transitions in between. 
Choose a template and modify what you want 
Moovly comes with a growing collection of templates in a variety of styles, content structures and about different types of subjects. No need to start your own video project from scratch. Copy a template, add or delete parts, and modify whatever you want: text, fonts, colors, background, music, images, footage…   
Create personal templates 
Aside from the general templates provided by Moovly, you can also create your own templates. Any Moovly project you create can be saved as a template. You can also copy an existing template, modify it and save that as your own personal version of the  template.
Share templates within a user group  
Any group of users (companies, organizations, classes…) can have its own set of shared group templates that are only visible and available to members of the group. Templates about recurring topics, brand-aligned templates or typical video structures can be handy for new, consistent video creation by group members.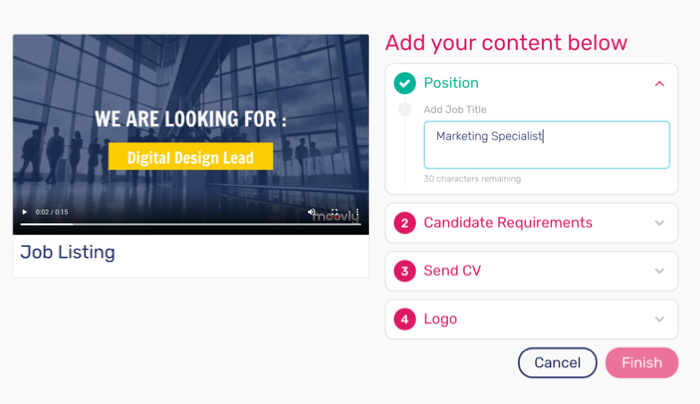 Adapt templates using web forms 
While templates can be used as a basis for new video projects and edited with Moovly Studio, it is also possible to modify them via a web form using the Quick Edit option. Text objects, images and footage can be defined as objects replaceable via the form. Very convenient if you need to make a series of videos that are similar in structure but slightly different per item, for example personalized videos, product videos, video ads…
Review and add feedback to videos 
Our new review and annotation feature, allows video creators to invite stakeholders, peers or test audiences to preview their Moovly video, add comments and feedback precisely to the content in an organized, time-specific manner. Strongly supporting the creative process and workflow of organizations.
Manage users in a group
Moovly users can be organized in groups, for example when they are part of a company, organization or class. A group can have common media libraries, fonts, colors and templates. A group also has a designated Group Admin, who can add and delete users, reassign subscriptions and view usage statistics.
Share media in group libraries  
A group of users can have one or more shared group libraries. Every group library can contain images, sounds, videos and Moovly Clips. The Group Admin can manage these libraries and add or remove media objects. 
Collaborate on video projects
Video projects created with Moovly can be shared between users, enabling group users to collaborate on projects. A user can share a project with one or multiple users in the group and give these users a right, to either view, copy or edit the project. 
Share videos in Group Galleries
A Group Gallery is a shared space to which group members can publish their Moovly videos to, for others to view or use as a template. Group Galleries can be public to external web visitors or private, accessible only by members of the group. 
Reassign subscriptions to other users
While subscriptions purchased via the Moovly website are individual and unique to the subscriber, certain subscription plans – for example the Enterprise bundle – include "floating subscriptions". This means that a subscription of a user can be reassigned to another user by the Group Admin, for example when a user changes role or leaves the organization.
5. Integrations and customizations
Ensure brand compliance in video creation
Moovly enables internal and external staff across the organization to create videos. If it is important that these videos are in line with the organization's brand, Moovly Studio can be configured to achieve the best brand-compliant results: your brand's colors and fonts can be installed and your brand asset libraries can be added – only accessible by users of your organization.
Integrate your DAM assets  
If your company or organization has a cloud-based DAM (Digital Asset Management) server containing your own collection of internal media assets, it can be directly connected to Moovly. This way, users can immediately use the organization's own digital assets (photos, icons, illustrations, videos, music, sounds) and create new video content using these objects.
Connect your cloud drive  
You can upload media (images, sounds, videos) from your computer's disk to Moovly Studio. If you are using a cloud drive such as Google Drive, Dropbox, OneDrive or Box, you can easily connect and access these via Moovly Studio to upload your media assets.
Have your own selection of features  
Moovly Studio contains a constantly growing list of features and media libraries, enabling users to create new videos in many creative ways and export their creations where they want. Some organizations prefer to limit certain features or libraries to comply with internal policies, workflows or brand requirements. Moovly can customize or hide a selection of features to meet these expectations.
Have your own white labeled version of Moovly
Moovly can be fully customized to a white labeled version with different colors, fonts, a selection of libraries and features to become
an organization's own internal video tool
. Even the Moovly logos, web and mail domains can be hidden and replaced by yours.
Contact us
to discuss your organization's expectations.
Test almost all features with the Free account