Create your own free animations with Moovly
At Moovly, we're big admirers of animation. From Oscar-nominated animated movies to whiteboard explainer videos, we love everything about animation. We are, after all, a video creation and animation platform.
We've heard too many people claim that creating animations is a challenging and costly process, which is what prompted us to write this blog. To inform you how to create free animations yourself, of great quality and in a timely fashion. Yep, the title may have given it away, but we are talking about creating your animations using Moovly!
Online animation software
Moovly is an online video animation maker that is entirely cloud-based. There's no need to download any software, all you need is an active internet connection and a working web browser. Moovly has
different subscription plans
for you to choose from, including educational and business packages. If you are not sure where to start, make sure to
sign up
and try
Free version
of Moovly. Here is what you can expect from the Free version:
Upload your own images, sounds and videos to your personal media library
Create animated video content as a combination of your own media and media from the Moovly libraries
Make use of over 1 million free media objects (pictures, illustrations, stock videos, music and sounds)
Share your created videos online
Multiple animation libraries
Some people like 2D animations, others prefer 3D animations. The beauty of animation is that it is so diverse. And diversity is exactly what you get on Moovly! The Moovly libraries contain over 1 million free assets, including professional-quality videos, motion graphics, music, sound effects, photos, and illustrations, all royalty free and free for you to include in your creations! Don't find what you need? Explore another 75 millions additional media assets in the integrated iStock (from Getty Images) libraries!
The Doodle Marker library
The Doodle Marker style is one of the most popular animation styles today. The Doodle Marker style is perfect for grabbing attention and entertaining your viewers.
The Infographics library
Bring colored infographics or pictogram-style graphics to life using the Infographics library.
The Storyblocks library
The Storyblocks library gives you access to 1 million free – and royalty-free – stock videos, photos, illustrations, motion graphics, music and sounds! No worries about copyright, all these assets are free for you to use in a legal way.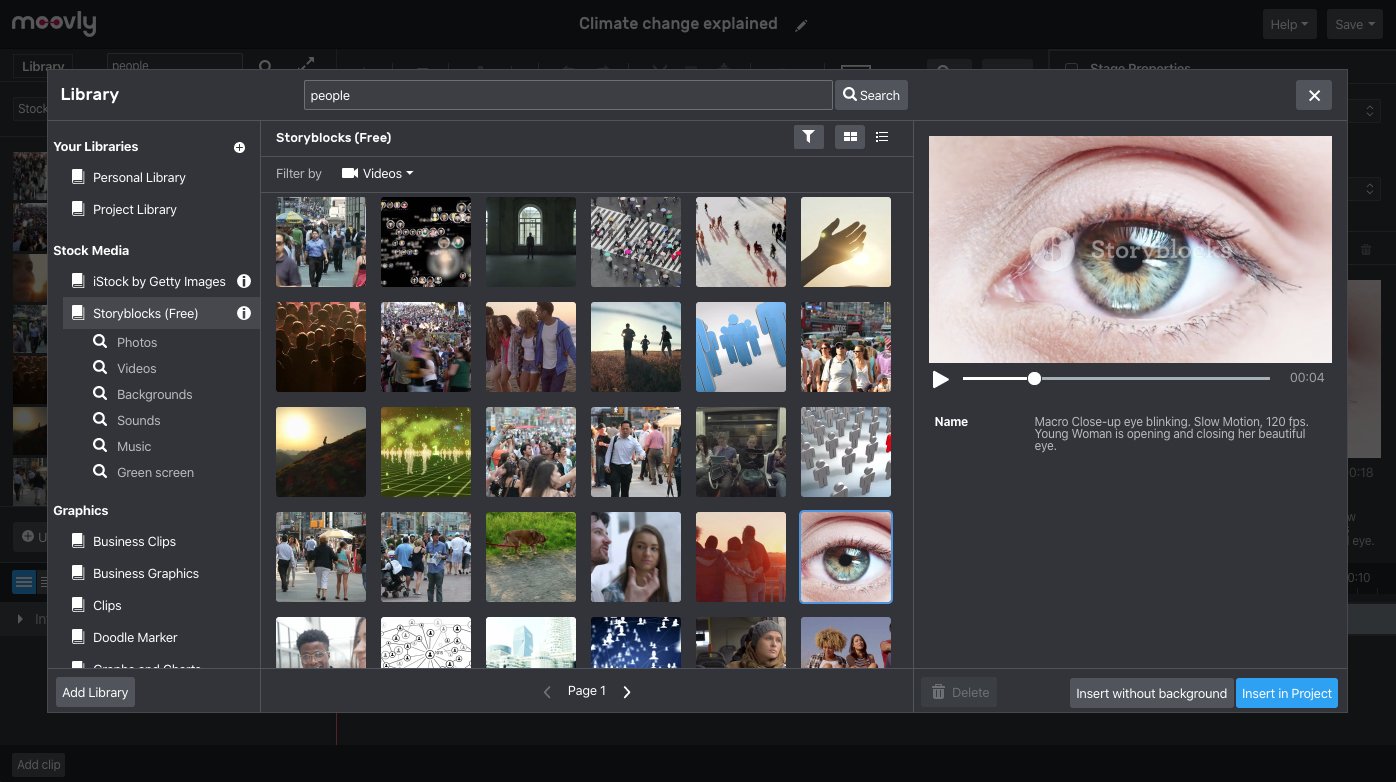 The iStock Library from Getty Images
If the Storyblocks or other libraries still don't provide you with the exact image, illustration, stock video, sound or music you want to use in your content, then make sure to browse the connected iStock library of our partner Getty Images! Search in a collection of over 75 million (!) additional media objects, available at pay-per-asset prices lower than on the iStock site
Create animations for your business
More and more businesses around the world are using video to win clients, engage audiences, explain their services and stimulate their brand. As a business, animated video content helps you to get your messages across to employees and clients.
With Moovly, you can make stunning videos without the need of having design skills or technical training. Get your message noticed and remembered with animated videos. Here's some inspiration: have a look at the User Gallery to check out what other users have made with Moovly!