Searching for an alternative to Powtoon?
Powtoon is a popular online video editor people use to create animations and footage-based videos. 
But Powtoon might not be the best choice for you and your goals.
To help you find a video editor that meets your needs, we've reviewed different software like Powtoon.
Let's jump in!
8 powerful alternatives to Powtoon
For anyone looking to adventure away from Powtoon, here are our top eight alternatives.
The #1 Powtoon Alternative: Moovly
Animated explainer videos use animation—think cartoon, 3D, or claymation—to get the message across. 
With this type of explainer video, you don't need to worry about renting fancy cameras and equipment to capture your content as everything is animated.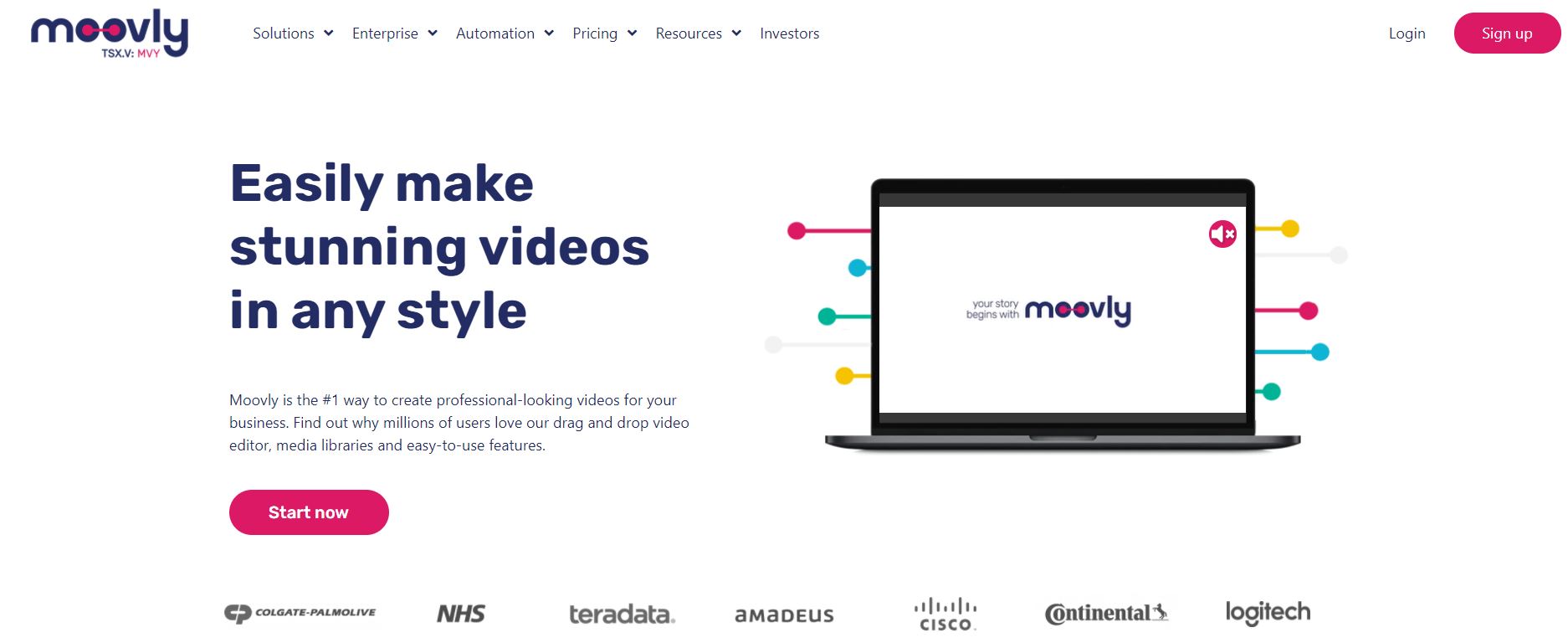 Meet
Moovly
: the best alternative to Powtoon.
Moovly is a cloud-based video maker, meaning you don't need to download and install clunky software to use it.
Let's learn a bit more about
why Moovly is the best alternative to Powtoon
.
At Moovly, we don't want to limit the style of videos you create. Using Moovly, you can create animated videos, whiteboard-style videos, footage-based videos, and more.
Customize everything from the colors in your videos to the fonts you use to always stay on brand.
And with Moovly, you'll never run out of media to use in your videos. While we let you upload any photos, videos, or audio you'd like to use, we also have several libraries containing millions of free assets! Some of Moovly's libraries include the:
Doodle Marker Style library

: whiteboard style line graphics you can draw or animate

Infographics Style library

: a variety of icons, pictograms, shapes, and cartoons

Business Graphics, Web Icons, Graphs, and Charts libraries

: ideal for animated business videos

Motion Graphics library

: transitions and cinema effects you can lay over your content

Storyblocks library

: over one million royalty-free stock photos, illustrations, videos, motion graphics, sounds, and music, all free for you to use in your content

iStock library from Getty Images

: another 75 million stock media objects—available at prices much lower than on iStock itself!

While Moovly allows complete customization of video content, we also know you might need to create videos in a pinch. Use—and customize—our templates to jumpstart your video creation process.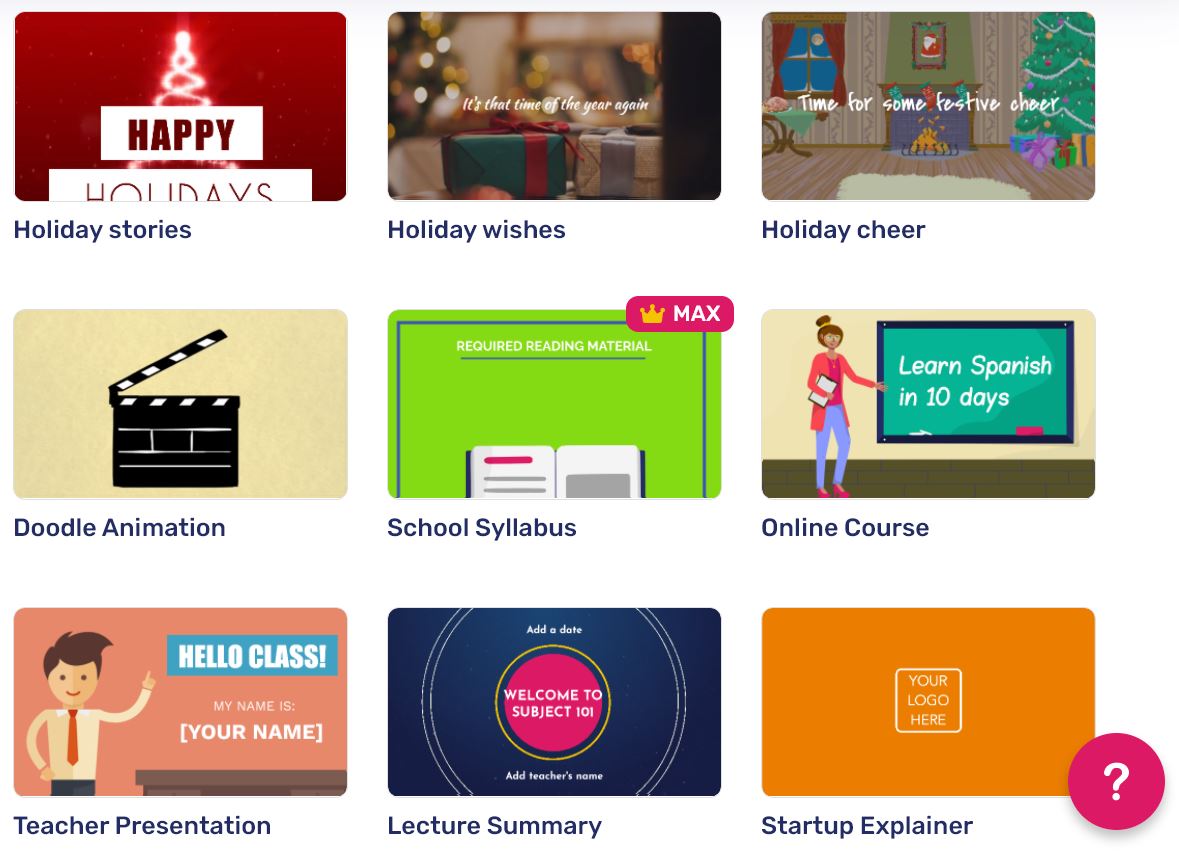 We have lots of templates to choose from when creating your videos.
Like many Powtoon alternatives, Moovly is cloud-based, meaning you don't need to download any software. However, if your internet connection is poor, Moovly will run a bit slower than usual.
The solution? To keep Moovly performing its best, make sure you have a reliable and stable internet connection.
Looking for a free alternative to Powtoon? Moovly has a free plan you can sign up and use right away.
Our Pro plan starts at $24.92/month with customized pricing for Enterprises.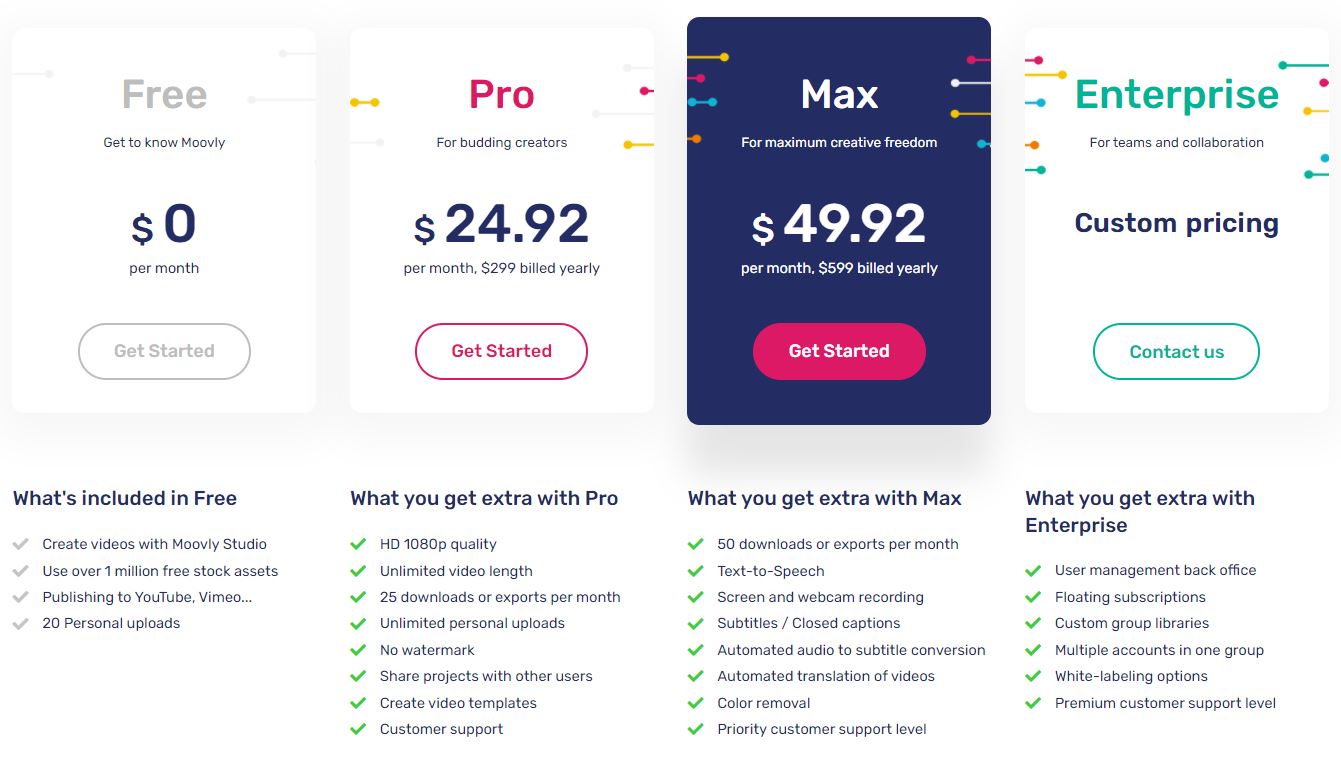 Another major competitor to Powtoon is Vyond. 
Similar to Powtoon and Moovly, Vyond (formerly GoAnimate) is a cloud-based software allowing users to create professional-looking cartoon videos. 
We must say, we enjoyed using Vyond to create our cartoons. Like Moovly, Vyond has different animation styles, such as Infographic-style videos, 2D animated videos, and whiteboard animations.
Using Vyond, you can customize the look of your cartoon characters and can create videos from scratch or with premade templates.
While Vyond is great at cartoon animation-style videos, you can't make other types of videos—like footage-based videos. 
As a business, it's essential your video maker gives you the flexibility to create different types of content, otherwise, your audience might get bored.
We'd love to see different video styles added to Vyond so businesses can product new and exciting content.
The solution? To keep Moovly performing its best, make sure you have a reliable and stable internet connection.
Unfortunately, if you're searching for a free alternative to Powtoon, Vyond isn't it. 
While they have a 14-day free trial, they don't offer users a free plan. Annual plans start at $299/year.
For anyone looking to adventure away from Powtoon, here are our top eight alternatives.
Onto the next Powtoon alternative: Animaker. Using Animaker, you can make short videos and GIFs. Animaker has beautiful cartoons and templates. It's the ideal platform if you don't care too much about customizing your video's plot. 
Animaker focuses on animation and lets users create custom cartoon characters. Customize your cartoon character by choosing different body types, skin colors, hairstyles, and facial expressions.

And with Animaker's Smart Move technology, you can quickly bring objects to life through preset animations.
Although Animaker is known for cartoon videos, you can also create videos in different styles with photos and other graphics.
Although you can create different styles of videos with Animaker, it's not as intuitive to learn as other video editors on this list. 
While some of the other editing timelines made sense to use, it took a bit of clicking around to figure out how to add effects and set transitions within Animaker.
Animaker has a limited free plan. Otherwise, annual plans start at $10/month.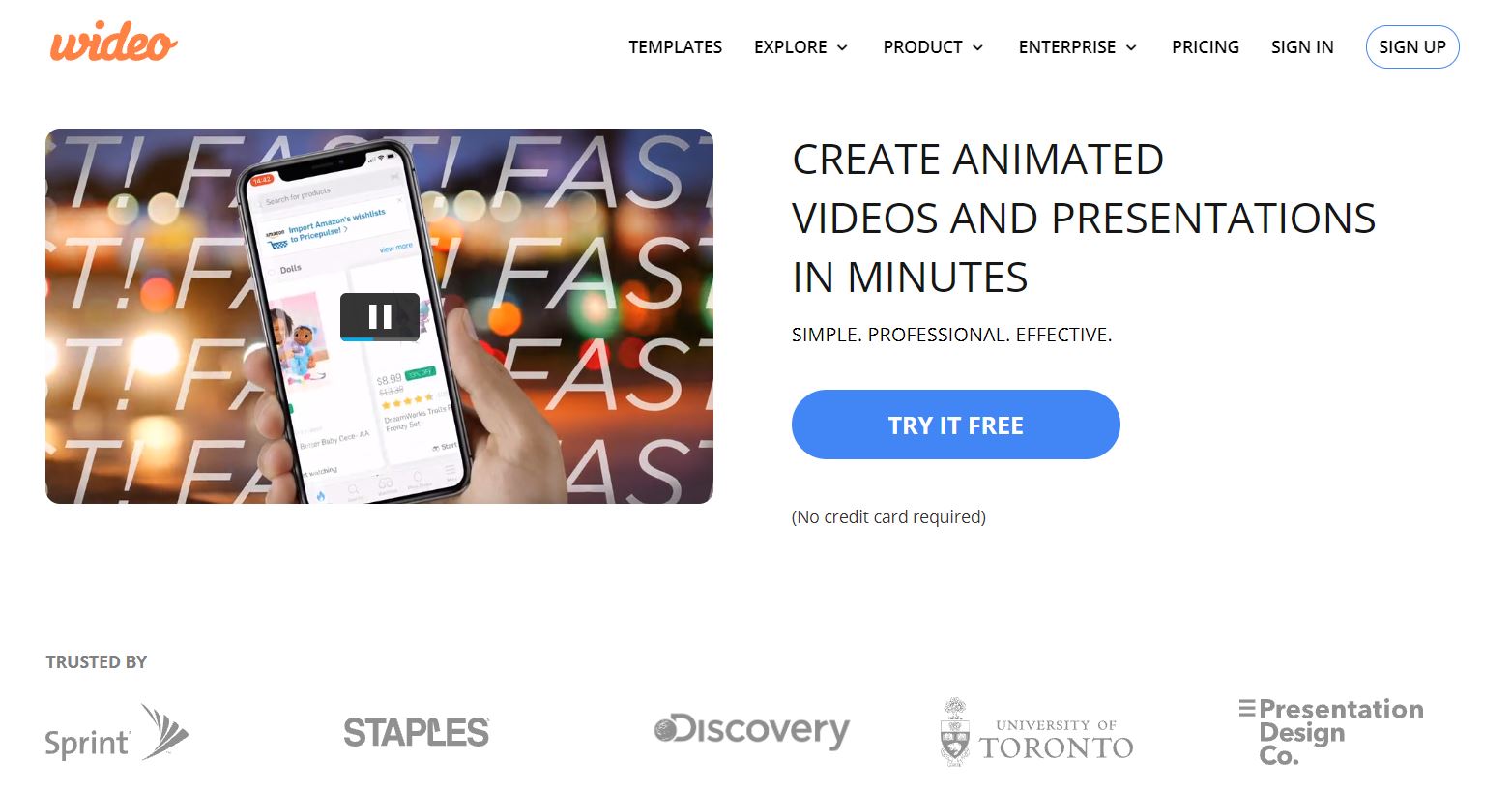 Wideo is another tool giving users a range of free, animated templates. 
Whether you're creating an animated video for your startup, or perhaps for your students, Wideo has plenty of animated templates and assets to help you make a great first impression.
Wideo has tools small businesses will find usefuls, like templates, color palette generators, and storyboard creators.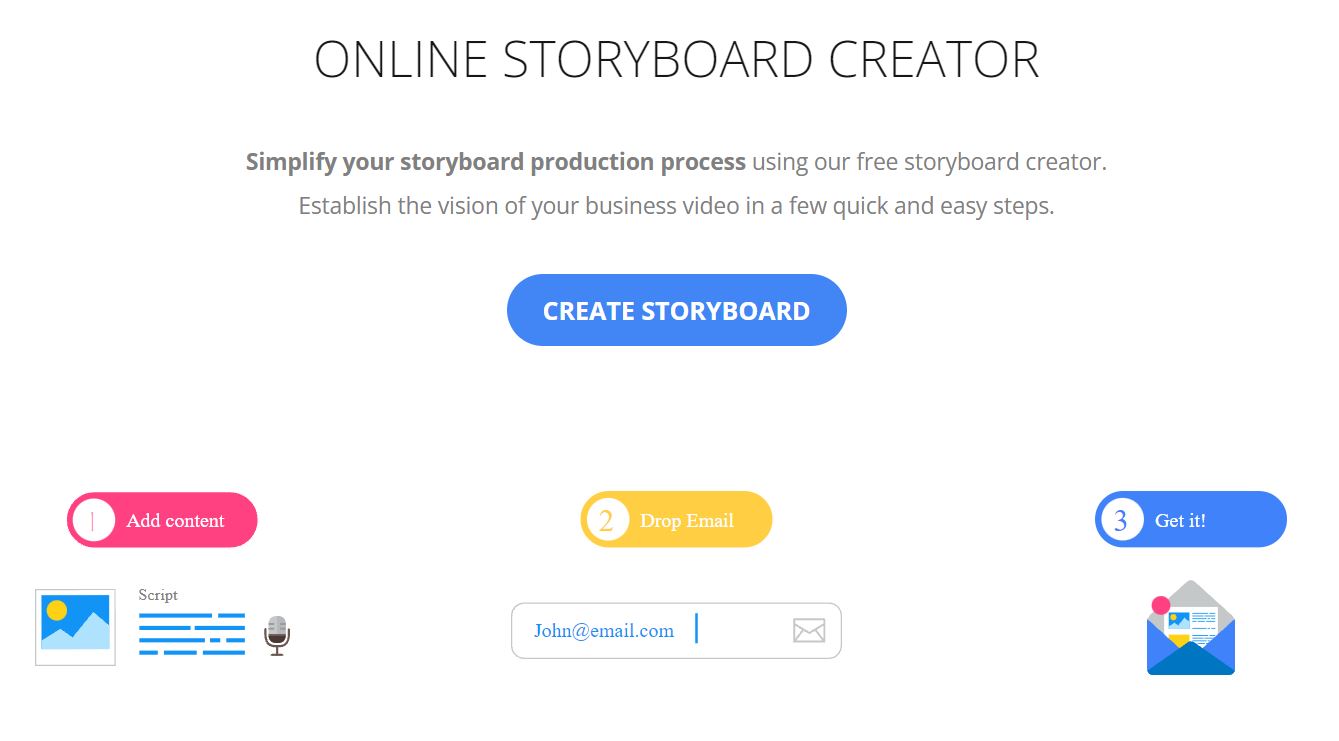 Creating storyboards is a crucial step when making videos for your business, and with Wideo, you can streamline the process between you and your team.
With a free Wideo account, users are limited to 60-second videos. Different video lengths perform better on different platforms. Some videos are best if they're several minutes and others should be kept under a minute.
Since it varies, it's important to have a video editor where you aren't limited in length. Of course, you can always upgrade your account to make longer videos.
If you choose to upgrade from Wideo's free plan, a Basic plan starts at $19/month. With each plan, you can try before you buy and take advantage of a 7-day free trial.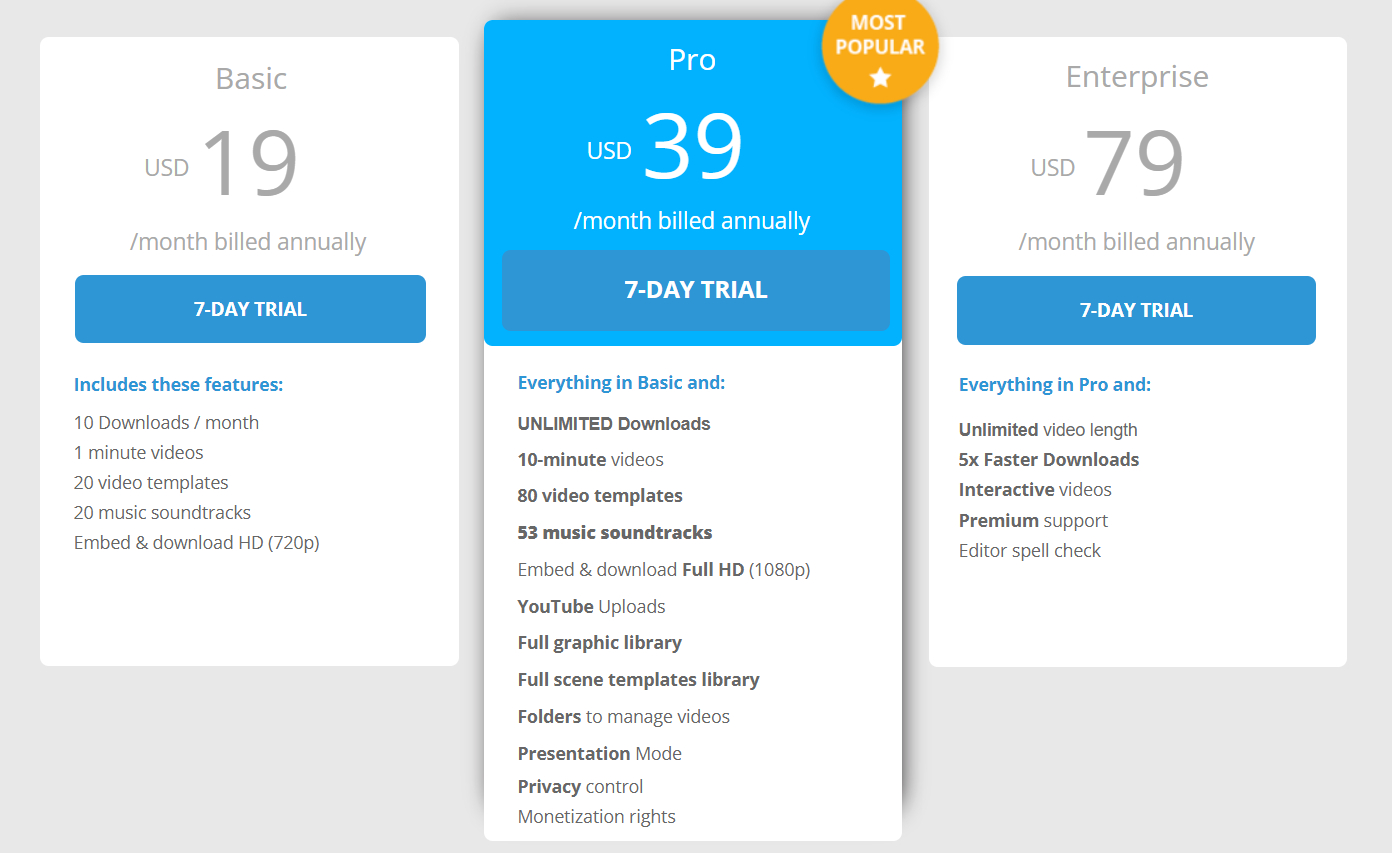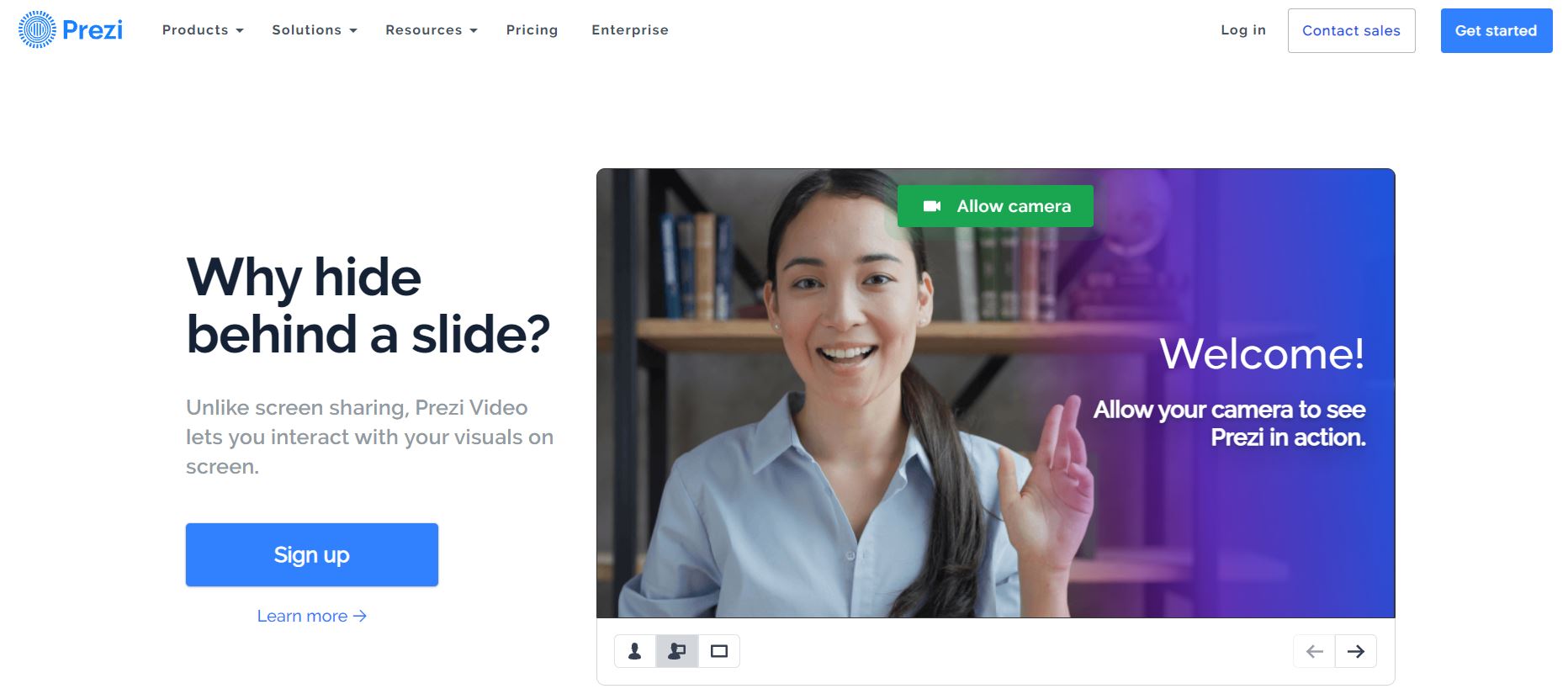 Although Prezi is not a direct competitor to Powtoon, it's still a great alternative for making interactive presentation-style videos!
Instead of creating static-like presentations, Prezi takes your audience on a cinematic journey like no other.
We love how Prezi has different templates to get your presentations up and running in a snap. 
After publishing your presentations, use Prezi's analytic feature to see which areas of your presentation make the biggest splash and which areas need improvement.
Creating storyboards is a crucial step when making videos for your business, and with Wideo, you can streamline the process between you and your team.
Prezi makes stunning presentations, but if you want to create promotional videos—like Facebook ads, explainer videos, or company videos—Prezi isn't the best platform for you.
We recommend using Prezi internally—think team or stakeholder presentations. But for marketing-related videos, choose an editor that gives you more than presentation-style content.
Prezi is available on a free 14-day trial. Annual business plans start at $15/month.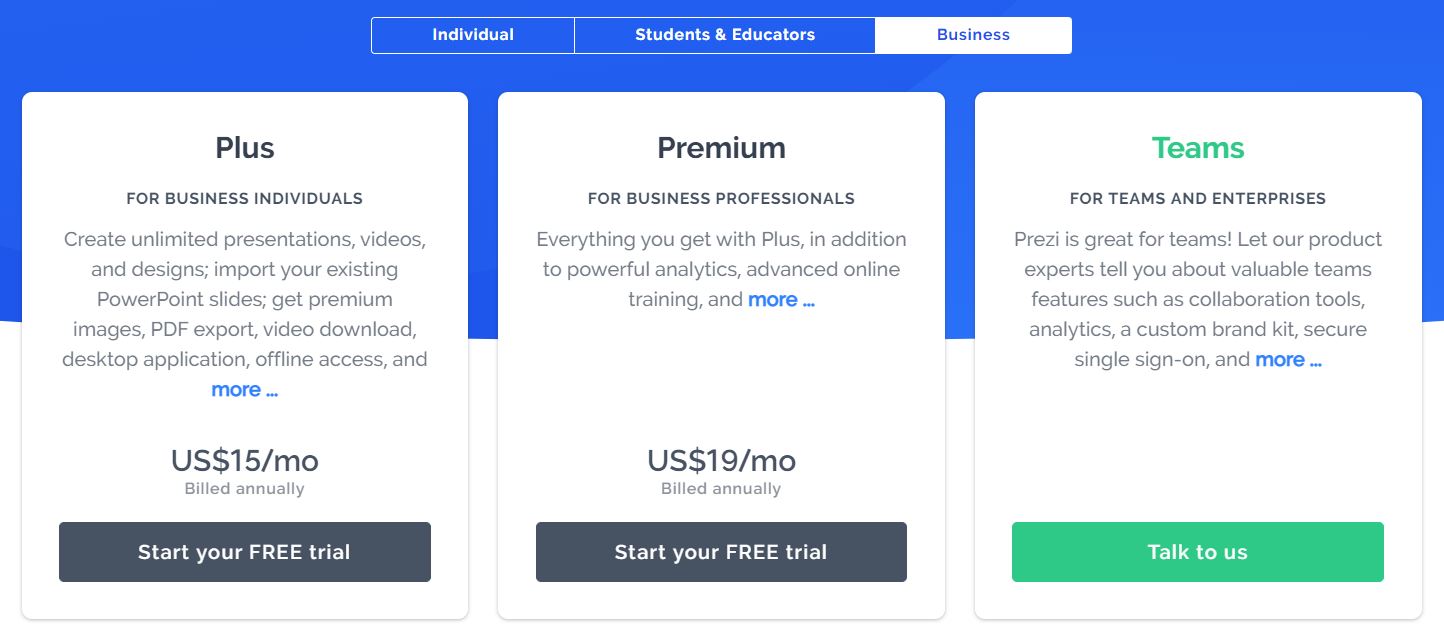 Biteable is another cloud-based alternative to Powtoon that business can use to quickly make different types of promotional videos.
Biteable has a large library of video templates, suitable for those who want to quickly churn out content.

One thing that Biteable has that Powtoon lacks is analytic reports for your videos. But there's a catch: these analytics are only available if your audience watches your video through a specific link. That means if you want to upload your videos to your website or use in Facebook ads, you won't have the analytical data from Biteable.
While Biteable lets users create videos in various styles, you can't make whiteboard animation-style videos. And as we've already mentioned, it's essential to find a flexible video maker that lets you create videos in various styles.

Biteable also lacks advanced editing features that Moovly has, like chroma key, where you can use things like green screens in your videos.
Biteable lets you try out their software with a free account. Annual plans start at $19/month.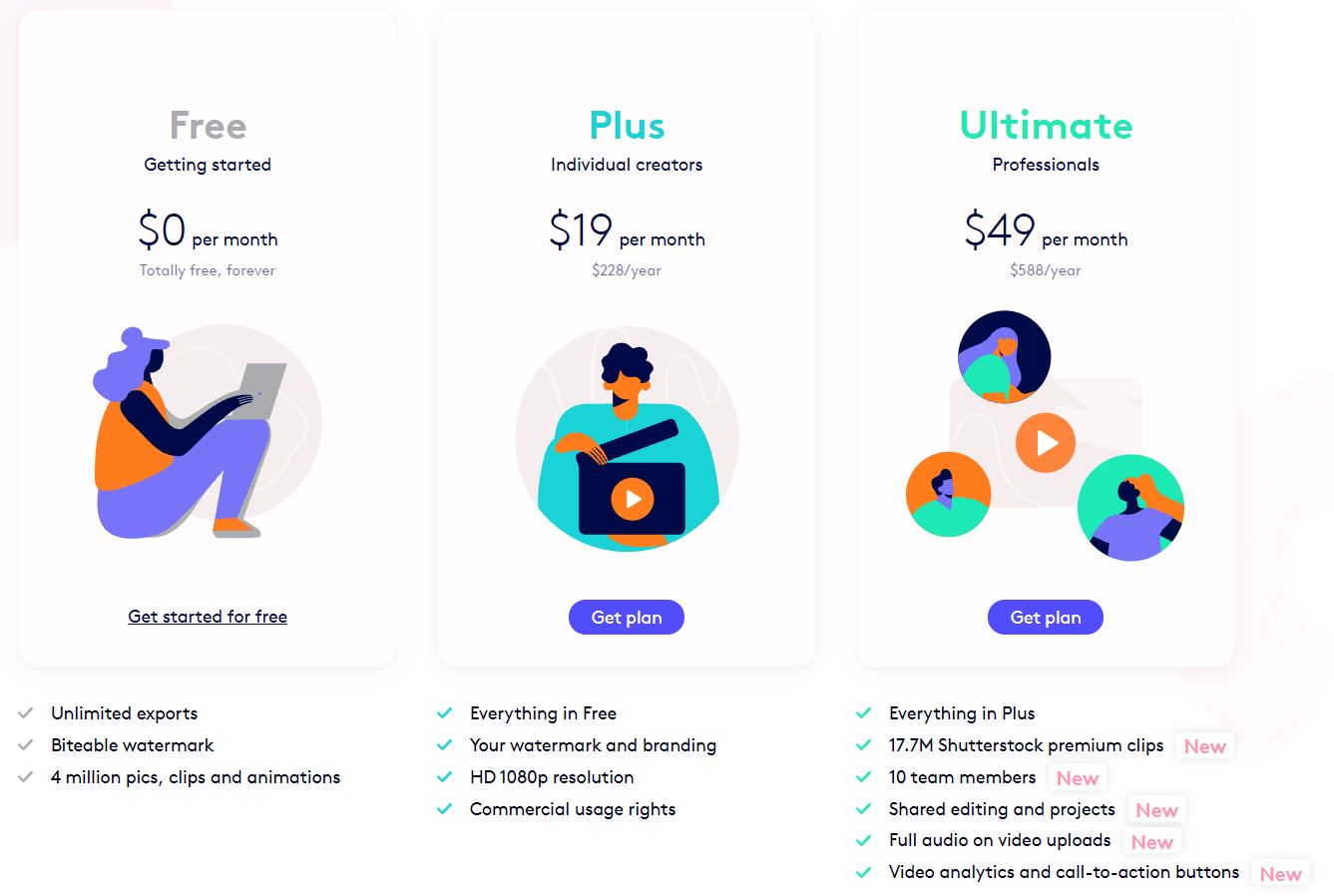 Raw Shorts is an artificial intelligence (A.I.) video creator that puts together videos with minimal input from the user.
Like Moovly, Raw Shorts has a drag-and-drag interface. Users can start creating videos right away without a steep learning curve.
And because Raw Shorts uses artificial intelligence to make your videos, you can create video content quite quickly. This is ideal for people wanting to spend minimal time creating and customizing video content.
Although we included A.I. as a pro, it's also a downfall. 

It's risky to let a robot create professional videos to sell your products. To show you what we mean, we used the A.I. video creator to turn this blog post into a short video:
While the A.I. did an alright job of putting a video together, there's still plenty of customization and tweaking needed.  

Raw Shorts is suitable for someone who isn't tech-savvy and doesn't want one-of-a-kind videos. If you want more control and precise customization, try other Powtoon alternatives (like Moovly).

In our video example above, the watermark covers the entire screen and the video is unusable for anything but personal use.
Most video editors have watermarks with their free plans, but they usually sit in the corner and don't obstruct the entire screen. 
To remove the watermark, you'll need the essential plan which starts at $39/month annually.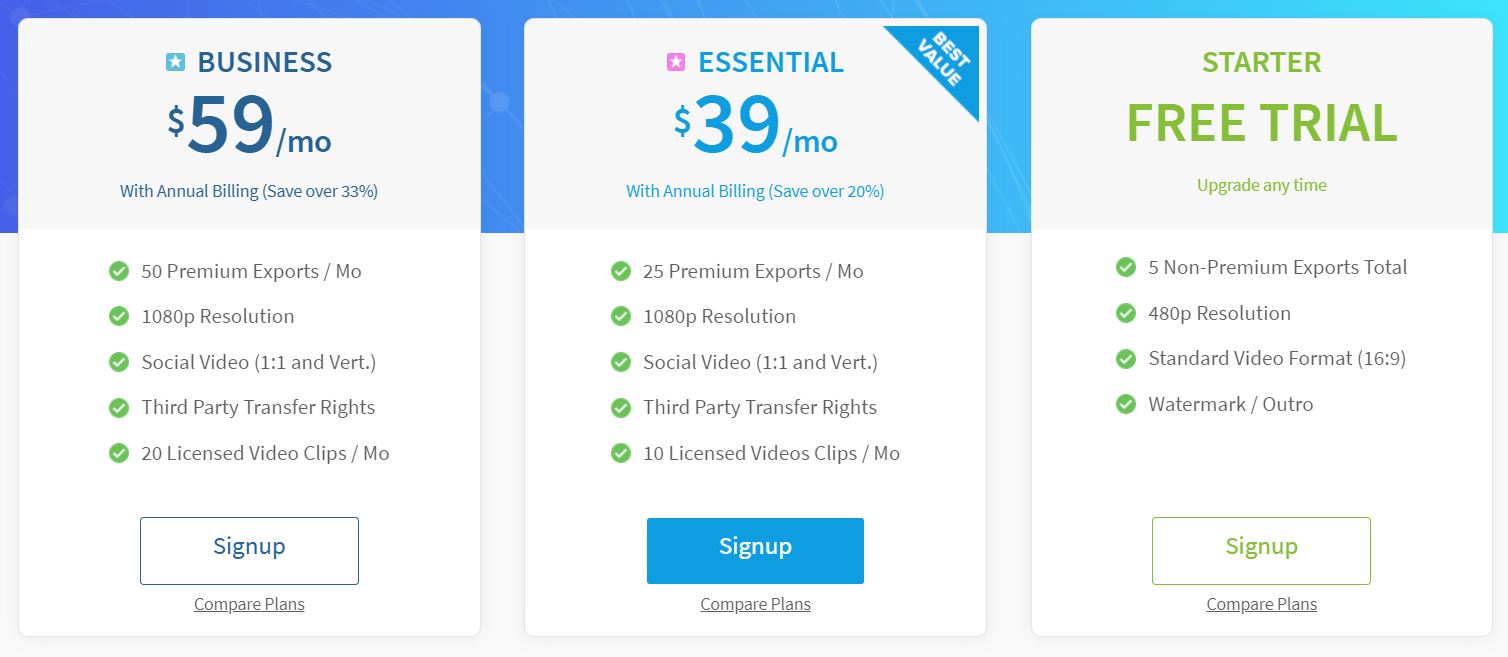 The last one of our alternatives to Powtoon is InVideo. InVideo is an online video creation software that lets users create slideshows, presentations, video ads, product videos, and more.
InVideo is suitable for those who want to create a video without much thought. With over 5,000 templates, you are sure to find something for your business.
You can search templates based on your industry and find a template that InVideo has already carefully crafted.
And like Moovly, InVideo has a massive library of footage and media ready to use in your videos
While InVideo has thousands of video templates to choose from, their video styles are limited. There aren't many cartoon video templates to choose from, and you can't make whiteboard hand animation videos.
InVideo offers a free plan. Their business plan starts at $15/month annually.
Choosing the best alternative to Powtoon
There are a few different criteria to help find the best Powtoon alternative.
The first—and likely non-negotiable—factor when choosing an alternative to Powtoon is your budget.
To get the most bang for your buck, choose a video editor with a free plan instead of a free trial. 
To refresh your memory, the video editors with free plans are:
Moovly

Wideo

Biteable

Raw Shorts

InVideo
Business goals and purposes
After setting your budget, list down any short-term (within the year) and long-term (over one year) business goals.
For example, if you want to improve internal collaboration, consider using Prezi to create impactful presentations for your team. 
But if you want to drive up sales, choose a video editor that lets you make a variety of videos like promotional videos, explainer videos, and ads.
The best video software grows with your business. Add software to your tech stack that meets your needs today and five years down the road.
Here are a few questions to ask:
Does this video maker have different templates to choose from, or will all our videos look the same?

Can we create different video styles to test which ones work best with our audience, or are we limited to one particular type (i.e., cartoon)?

Is this software suitable for both beginners and advanced users?

Can our entire team collaborate in the software?
Moovly checks all the above points! Our software is versatile and easy to use, which is why it's the best alternative to Powtoon.
Create animated videos—and more—with Moovly
Check out Moovly here - it's free...