Being a healthcare communications manager is no easy feat. You're constantly juggling campaigns, coming up with new ideas, managing your team, and much more.

But the heart of your job is communicating.
At its core, communication is sharing information with a select audience. Doing so is simple when you only have one audience to relay info to.
But for you, that's not the case. You need to communicate ideas with your team, patients, prospective patients, stakeholders, and even the general public. While it's a tricky task, adding video to your arsenal helps you get key messages across faster and more effectively.
Why healthcare communication professionals should add videos to their toolkit
1. Videos are easy to scale
Many communication teams shy away from videos. They believe video production is pricey and complicated—reserved only for big marketing teams with video-editing expertise.
And while that might've been true several years ago, healthcare professionals can now use cost-effective video editors, like Moovly, to whip up professional-grade video content in a snap. 
With Moovly's intuitive editor, everyone on your team can pitch in to create video content—no video editing experience required! Additionally, your team can make predefined templates that other team members can then use as a base. Simply change the text and swap out media elements to create many videos from a single template.
2. Videos are effective at conveying complex messages
While videos are entertaining, they're also effective when you need to get a complicated point across. People grasp complex concepts quicker through video, which is handy when explaining medical topics to a non-medical audience.
3. People prefer watching videos
People of all ages prefer videos over other types of content like emails or PDFs. Capture your audience's attention and stop their scroll by adding videos to your content mix.
8 ways teams can use videos for healthcare communications
1. Highlight your expertise and share your offerings
When patients search for a clinic, they want clinicians who have experience in the procedure they need. 
But how do you convey expertise to potential patients? 
Some centers may opt for one-on-one consultations. The problem? Your team can only hold a specific number of consultations in a day.
To reach more people—and build trust with them before they come to your center—use videos. Feature doctors and other healthcare staff to explain your center's offerings to potential patients and position your team as experts. Plastic Surgeon Dr. Buonassisi shares various videos on YouTube discussing treatments his clinic provides:
Not only will your videos showcase your expertise, but they also have the power to increase bookings: 30% of patients who watched an online health video booked an appointment with the medical center after watching.
2. Provide tips to patients
Two ways you can provide patients with valuable content are through:
Pre- and post-appointment tips

Educational content
Pre- and post-appointment tips
Create videos that show patients how to prepare for their appointments. These videos can reduce the number of basic questions you receive regarding patient procedures, so your team can focus on helping those with more dire questions.
The Hernia Center of Southern California's YouTube video explains how patients can prepare for their hernia surgery:
Educational content
Empower and educate patients with helpful videos to keep them healthy in-between visits. For example, during flu season, create handwashing videos to remind people of proper handwashing etiquette. Or create videos that demonstrate the importance of stretching, just like the Mayo Clinic does with their video:
3. Explain medical procedures
Medical procedures are intimidating, making it no surprise that 56% of patients watch videos before a procedure to understand their procedure better. Use videos to discuss the various procedures you offer. You can do what the Advanced Hair Clinics does and show a step-by-step of the actual procedure:
Or take a page from Providence Health Care and have a doctor explain a procedure in-depth: 
Adding these types of videos into your healthcare community's toolkit can reduce patient anxiety and encourage more people to book appointments.
Staff retention is crucial in the medical industry where teams run lean to begin with. Retaining your team starts with the right onboarding process, especially when you consider that employees who have a negative onboarding experience are twice as likely to seek a new place of employment.
Rather than asking staff to train new team members on top of their other daily duties—and risk overwhelming them—use videos to automate your onboarding process. Videos also add a layer of consistency to your onboarding process so everyone remains on the same page at all times.
You need a fast and effective, way to train current staff when you introduce things like new procedures or software. But person-to-person training is costly and often inconsistent. 
Instead, turn to videos. 
Videos are an effective way to scale your training, especially since 83% of people prefer videos over training manuals.
As a bonus, teams can refer back to videos located within your centralized content library if they need a refresher.
6. Announce corporate news to staff
Keeping staff updated with corporate news is critical. Since 80% of people remember what they see over what they read, accompany corporate email blasts with a video to ensure your recipients actually remember the important news you're sending.
7. Promote your organization as an employer
According to Deloitte, health systems are beginning to report problems with hiring nursing professionals. And with the pandemic causing burnout among healthcare professionals, it's crucial you have a plan to attract and retain top talent. 
We've already discussed how video can help you retain healthcare professionals, but you can also use it to attract them.
Create videos that showcase what it's like to work in your organization and promote them to potential candidates by publishing them to YouTube, your website, and other areas candidates frequent.
Nebraska Medicine's video promotes the Patient Attendant roles they're hiring for by interviewing two current Patient Attendants:
8. Promote your organization to future patients
Testimonials are a powerful mechanism of persuasion. Whether people are shopping for a new mattress or searching for a new doctor, they seek out testimonials to make them feel confident with their decision. And since 43% of people searching for a medical provider watch patient testimonials, you can't afford to not include them in your communications strategy.
West Medical has a playlist on YouTube with over 20 different patient testimonials, like this one, which has over 2 million views:
Why you should use Moovly to create healthcare videos
With the right video editor, you can streamline your video production process, even if you have no prior editing experience! Plenty of healthcare communications professionals already use Moovly to help them create amazing video content. Using Moovly, your team can:
Create customizable templates

: create your own templates (or use Moovly's

premade templates

) to jumpstart the editing process. Have your team replace text and photos to create new videos in a snap.  
Stay brand-compliant

: integrate Moovly to your Digital Asset Management system so your team has access to branded collateral for the videos they make. Restrict colors and typography within Moovly for an additional layer of brand compliance.

Create videos in different styles

: create animated videos, documentary-style, motion-graphics, or a mix.

Collaborate

: invite users at all levels of your organization to collaborate together and use Moovly's review and comment system to approve or ask for edits on specific areas of your videos. 

Whitelabel our video editor

: add your own branding so our video editor truly feels like your own.

Export videos to many platforms

: export videos automatically to a centralized library, your social media accounts, or download them so you can add them to your website. 

Add professional media and effects to your videos

: search through millions of media elements and various effects to add to videos for a professional touch.

Add captions and translate those captions

: add captions automatically and translate them to over 100 different languages with the click of a button.
Ready to see how Moovly will fit with your healthcare communications strategy? Schedule a call to see how we can help you get started!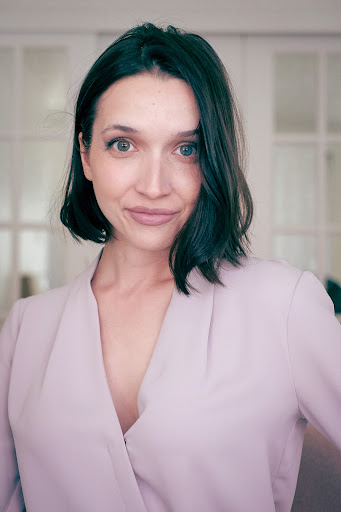 Dana is a freelance writer who works closely with B2B SaaS brands to create content people enjoy reading. When she's not working, you'll find her sipping on a warm cup of tea and reading a good book (the scarier, the better). See what she's up at www.dananicoledesigns.com 
Create your own healthcare video now