We all know the feeling of starting a new job. It's intimidating when you don't know what is expected of you or how to complete your daily tasks. Even the most competent workers struggle when they aren't given proper training or direction.
If you want strong internal teams, you need a plan in place to train them.
But training is time-consuming and costly. According to a report from TrainingMag, it costs $1,286 per year to train a new employee. Add ten new employees a year and you're spending over $12,000 on training alone.
And that's just for new hires. That doesn't take into account the training you need for your current employees, like when you add new software and need to get everyone up to speed. Or when you need to show customers how to use your product.
Training is an unavoidable part of business, but there is a way to reduce training costs without cutting corners: training videos. Training videos are educational videos you can use to train an unlimited number of people.
If you're looking for a way to scale your training process, keep reading. We're going over everything you need to know about making effective training videos.
Reasons to create your own training video
While training videos will save you time and money, you might wonder whether or not people will actually use them. According to TechSmith, they will—83% of people say they prefer instructional videos over training manuals. 
Aside from people preferring video content, here are some of the top reasons you should create training videos: 
They save money and resources

: instructor-led training is expensive. Using training videos, you no longer need to hire instructors. Make your training video once, use it an infinite number of times.
They offer flexibility

: create a training video in any style, for any topic, and for any audience.
They engage your team:

videos are enjoyable to watch and will keep your team engaged. 
Available anywhere and anytime

: videos let employees watch them when they have time. No more trying to align everyone's schedule to accommodate for in-person training sessions.
They're accessible

: subtitles and voice overs let people choose how they consume your training videos. For people who are unable to hear the videos, they can follow along with subtitles. Alternatively, if your video doesn't require the viewer to watch, they can listen to the voiceovers.
They're easy to share

: upload your videos in a centralized training folder so employees know where to access them at all times, and can refer back to them whenever they need a quick refresher.
Every employee gets the same experience

: when you rely on instructor-led training sessions across multiple teams, you risk each group receiving a different experience. No one session will be exactly the same, which can lead to differences in training. Using video, you can be sure everyone gets the exact same experience. 
Easier to convey lots of information

: thick manuals are hard to digest. And since we already learned that people better remember the things they see, it's undeniable that videos are the way to go if you want to explain what your company does to new hires.
You can view video stats: if you upload to platforms like YouTube, you can view stats like video views and watch time. This helps you understand how many people actually watch your training video, where people drop off (and where they're getting bored), helping you improve future videos.
5 types of effective training videos
The type of training video you create depends on your goal of the video. To help you figure out which type you should create, we've included suggestions depending on specific goals.
This training video is best for: times when you need to share how to use complex software or show a step-by-step process. Viewers can follow along with a screen recording.

Screencasts are recordings of your computer screen. These types of training videos are highly effective when you need to share something on your screen with viewers.

Using Moovly's training video editor, you can record your screen directly in our video editor. After recording, add your company logo and other distinguishable branding to your video so viewers know who created the training video.
2. Animated or whiteboard
This training video is best for: dry or complex subject matter you need to make more entertaining.

Let's face it: training videos aren't exactly exciting. But you can't cut out boring parts for entertainment purposes. When creating training videos for dry topics, turn to animation. Animated or whiteboard-style videos are entertaining and hold viewers' attention.

As a bonus, you don't need to worry about filming content for your animated training video nor do you need any experience creating cartoons to make animated videos. At Moovly, we've done the hard work for you and have pre-made animations you can customize for your videos.

Using Moovly's library, find the animations you want to use and add text, audio, or music over the animations to explain your concepts.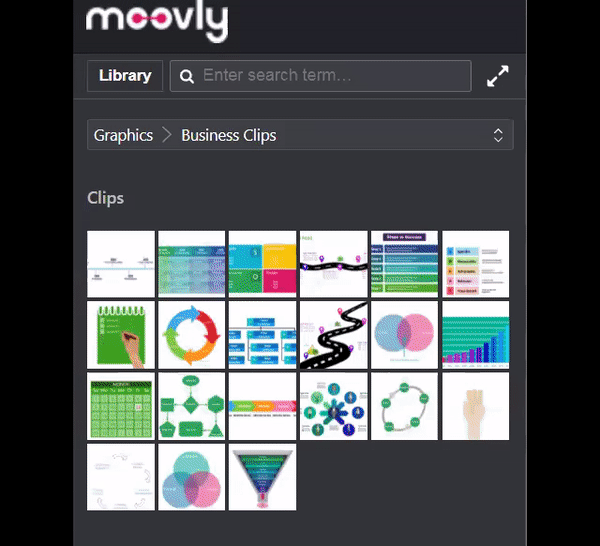 Moovly's library is packed with different clips, graphics, and animations to use in your training videos
This training video is best for: times when you want to share instructor-led training with others who didn't attend the session.
Just because you're using video training videos doesn't mean you still can't host classroom-style sessions. There may be times when you have live training sessions for specific teams. Rather than keep those sessions exclusive to those who attended, film them and upload it to Moovly to edit and distribute to your team.
You can also film your own classroom-style videos by using your webcam to film yourself as you go over a specific topic.
Because your viewers can't ask questions directly—like they could in an actual classroom—it's best to use this style for simple topics.
This training video is best for: teaching a single topic or idea.
Webinars come in different styles, the most common being a set of PowerPoint slides along with  a talking head. Moovly lets you upload and convert your PowerPoint presentations into videos. You can also film yourself with your webcam right in Moovly, and use chroma key technology—more commonly known as green screens—to set your background.   
And if you have past webinars you want to share with new hires, use Moovly to stitch relevant ones together.
This training video is best for: times when you need a custom approach.
The above training video styles cover a range of needs, but with Moovly, you can combine styles to create training videos that fit your approach. Combine any of the above videos to create something unique to your employees. See which styles work the best to get your concepts across and make it easiest for people to learn.
Steps to create corporate training videos
1. Define your training goal
Before making your training videos, take some time to define the outcome you want for the viewer. If your goal isn't clear, you risk creating a training video that won't fulfil its job.
Your goal also influences which type of training video is best to use. For example, to help sales staff understand your products better you might want to create a webinar for each product. For new customers, you might create a screencast walking them through your product's set up process.
2. Write your script and create a storyboard
Your training videos need two things: a script and media to accompany the script.
Write a script
Your script will serve as the narration or captions to your video, but it should also include any action or movement you'd like people to do. With your goal in mind, write a script that takes your viewer to the end goal. Avoid going over the time-limit of your video by reading your script aloud with a timer.
It's good practice to test your script with other team members as well, and let it go through several rounds of revisions before finalizing it.
Create a storyboard
A storyboard helps you and your team understand which media to use when. You can draw your storyboard by hand or use a storyboard software like Storyboarder.
There are different ways to build a storyboard. Search on Google to find examples. Image source
With your finalized script, create a storyboard and choose which visuals will occur when. Make sure to account for music, any potential video transitions, and other special effects.
Armed with a storyboard, your team will know exactly which types of media elements they need to bring your training videos to life.
If you're using Moovly to make your training videos, you have a few different options:
Find media within our library

: Moovly's content library is home to millions of graphics, stock media, animations, and sounds available to use in your videos. 

Shoot and upload your own media

: create your own content for your video by filming it, either by using a webcam and filming straight in Moovly, or uploading videos you've filmed with your camera. You can upload photos, graphics, sounds, PowerPoints, and videos to use. 

A combination

: complement your media with the media in Moovly's library.
After gathering your content, you're ready to produce your training video.
4. Put everything together in Moovly
You don't need to worry about finding a video producer on your team. Moovly's drag-and-drop video editing software makes it easy for anyone on your team to make videos. 
Drag and drop your content into Moovly for effortless video production
But beyond being easy to use, using Moovly will streamline your team's video creation process:
We have

brand control

to keep your training videos aligned with your brand. Restrict the video editor to your color palette and the fonts you use. You won't need to worry whether your team is using the correct typeface or hex codes throughout your training videos.

We offer

shared collaboration

so teams can work together remotely. You don't need to be in the same room to create content. Assign users specific rights and give editing permissions only to the people who need it.

You can

connect your Digital Asset Management (DAM)

so your team has access to icons, logos, and media they should use within each training video. View our list of

integrations

to see if we integrate with your DAM system. If your DAM isn't listed, we'll hop on a call and create a custom integration for you.

You can create

branded templates

for your team to use over and over again to speed up the video creation process.

You can

whitelabel

our video editor to display your logo.
And of course, you also have access to our range of video templates if you don't want to create your training videos from scratch!
Once your training video is complete, add finishing touches like subtitles—so your employees can learn even without sound—or use our text-to-voice feature and automatically add narration to your videos.
5. Share your training video
After completing your video, you can download or publish it straight to several different places like YouTube or a shared Google Drive.

Upload your training video somewhere employees or customers can easily access it
Make your own training videos with Moovly
Both customer and employee training videos are an inexpensive solution to an expensive problem. Use training videos to either replace or complement your current training process and watch your team's productivity improve! 

Ready to get started? Make an effective training video using Moovly!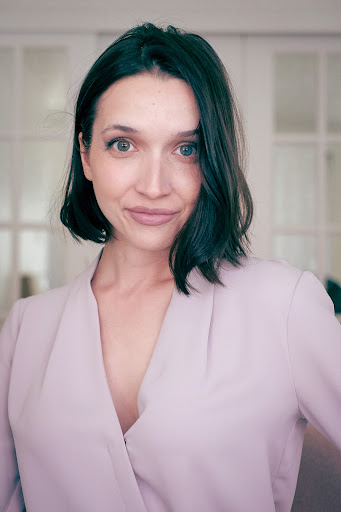 Dana is a freelance writer who works closely with B2B SaaS brands to create content people enjoy reading. When she's not working, you'll find her sipping on a warm cup of tea and reading a good book (the scarier, the better). See what she's up at www.dananicoledesigns.com 
Create your own whiteboard video now