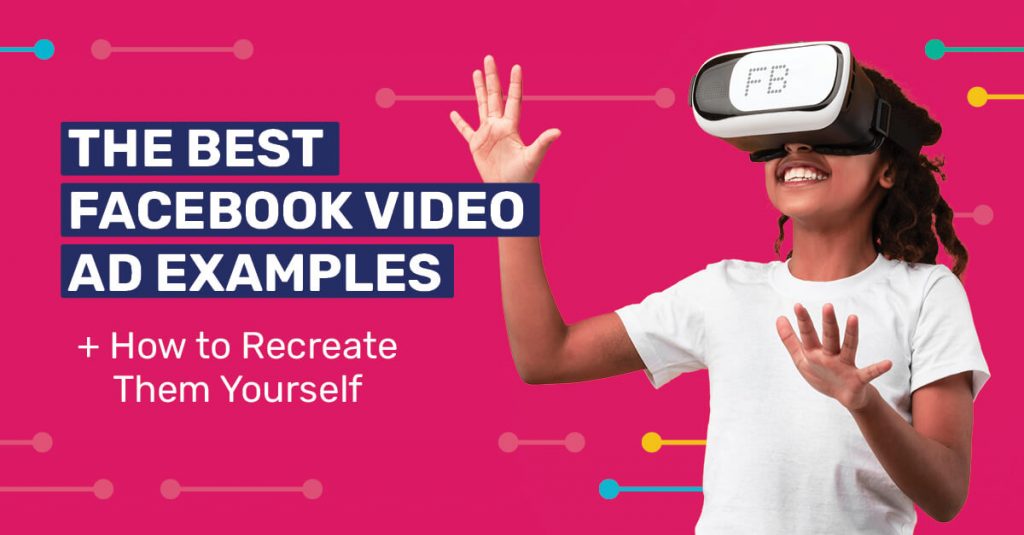 Want to make more money? Make Facebook video ads to show off your product. 
Video ads engage users and slow their scroll. And when you capture their attention right off the bat, your chance of making a sale increases. It's no wonder that 64% of people are more likely to buy a product after watching a video about it.
To help you create the best Facebook video ads you possibly can, I've put together a list of Facebook video ad examples to inspire you!
As a bonus, I'm showing you how to recreate each ad (even if you have no videography experience).
Why are video ads on Facebook so successful?
Years ago, to reach your target audience at scale, you had to spend a significant chunk of cash to shoot and film a commercial (and then pay a network to show it).
These days, you can get an ad running in front of your ideal audience on a shoestring budget, thanks to video editing software and social media.
And not only are Facebook ads affordable to create, they're profitable. In a study conducted by Databox, surveyors shared their average return on ad spend was 6-10 times!
15 of the best Facebook video ad examples to inspire you
Now you know why you should create ads, let's look at the best Facebook ad examples that use video.
Mayple's colorful Facebook ad grabs your attention right away. The bright colors and eye-catching backdrops make it hard to scroll past.
And if you think you need a hefty budget (along with a film studio) to produce your own Mayple-esque ad, think again.
All you need is:
A camera

A green screen (or any solid-colored background)

Moovly (

sign up for your free account!

)
First, film your ad against a solid-colored background or green screen. Then, using Moovly's chroma key feature, remove the green screen backdrop from your footage. 
After your background is gone, search through Moovly's media library to find a stunning background that works for your ad. You can also upload your own image if you have a backdrop you'd like to use.
Facebook video ads don't need to be complex, and you certainly don't need to use green screens or fancy cameras to create a great ad.
OroweatOrganic's Facebook video ad is a brief six-second ad containing text, music, and imagery.
To create an ad like this, you only need two or three high-quality product images. You can upload your images to Moovly's library where you can then add text, effects, and music to complete your ad!
If your goal is something simple, aim to re-create something like this Purex Facebook ad. I love this Facebook video ad example because it shows how you can create a sleek ad with only one product image. 
To recreate an ad like this, upload a high-quality image of your product with a transparent background. You can use free software like remove.bg to remove the background of your image if you don't have Photoshop. 
Next, in Moovly's library, search for a solid background to place behind your product image. Lastly, add text, animation, and other effects.
This particular ad contains no music, but you could always add in some background sound if you want.
Celebrity brand partnerships help people remember your ads and build brand equity. Jennifer Aniston is a longtime partner of Aveeno, but don't think you need to seek out the Jennifer Anistons of the world for celebrity partnerships.
Look to local celebrities or minor celebs in your niche to draw attention to your Facebook video ads. 
Gather your celebrity footage and then, using Moovly, upload your footage and finalize your ad by adding in text, graphics, and effects.
Successful Facebook ads don't sell a product; they sell a solution to the viewers' problems.
In Ghiradelli's Facebook video ad example, they're not just selling chocolates. They're selling the chance to take a break from mundane schedules. 
In your ad, use contrasting images and videos—in Ghiradelli's case a dull alarm clock paired alongside flowing chocolate—and show your audience how life will improve with your product. 
Moovly's media library has millions of graphics you can choose from to find contrasting elements for your video ads.
Here's a Facebook video ad example that uses images and text. Simple, but effective. If you want to get your video ads up and running right away, consider making a video with imagery and text.
Zon Tools uses contrasting images—a teddy bear and a fierce bear—to convey their message.
The secret to this type of ad is to ensure your text is large and legible. Use images that aren't too busy and have plain background so your text can stand out.
The number of effects and transitions makes ClickCease's ad enjoyable to watch.
For simple ads, adding movement to the text and graphics can cause people to slow their scroll and watch your ad.
Within Moovly, apply and customize animations like:
Pop, flicker, and flip

Scale in/out

Pop in/out

Slide in/out

Bounce in/out

Spiral in/out

Zoom in/out

Move left/right

Move up/down
And more!
Just be sure not to over do it by adding too many moving elements (you don't want to make your viewers dizzy).
Another one of the best Facebook ads is this one by Mila Air. Mila Air's ad is simple and clean, using a combination of photos and video footage of their product, along with minimal text.
Their Facebook ad doesn't use sound and is only nine seconds long, and catches viewers' attention through the clean and sleek images.
Recreate this Facebook ad by taking several photos and videos of your product against a green screen. Then, use the chroma key in Moovly to remove the green screen. You can add a colored background or keep it white and crisp, just as Mila Air has done!
9. SleepBand Sleep Headphones
SleepBand is an excellent example of a Facebook video ad that wasn't filmed with top-of-the-line equipment, yet the ad has reached millions, with many people in the comments touting it as their best purchase. It goes to show that you can make successful Facebook ads without studio-quality gear.
SleepBand's ad performs well because it tells a story by highlighting the problem their product solves. 
When making your Facebook video ads, incorporate a storyline into your ad. Film video content showing what life is like before your product and after, just like SleepBand has. Use Moovly to trim and edit your footage together, add background music and sounds, and text to supplement your footage!
Claymation video ads are entertaining and stand out. 
But they also cost a small fortune to make, ranging anywhere from $1,000 to $10,000 per minute of animation. If you want to make Facebook video ads on a budget, that's out of the question.
Luckily, Moovly's media library has different claymation scenes you can search through to bring your claymation ad to life!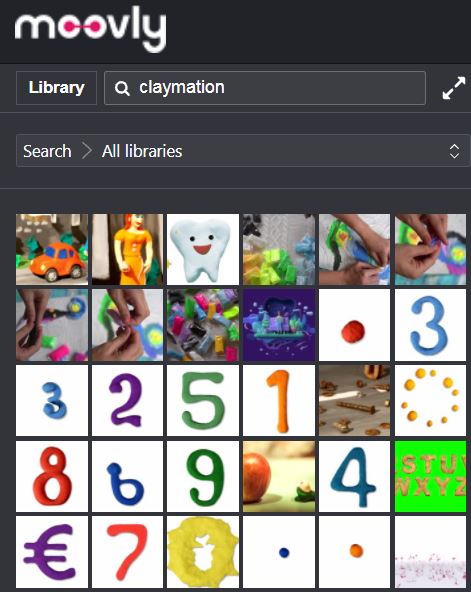 Search through Moovly's media library to find different premade claymation animations to use in your Facebook video ads.
We also have different stop motion animations, similar to claymation but with real objects. They both have the same feel and can wow your audience.
While on the topic of animation, let's look at this Facebook video ad example from Brilliant.org. 
Animated Facebook video ads are the perfect alternative for businesses who don't want to shoot their own content.
Moovly's library is bursting with different types of animations ranging from:
Use our library to search through different animated items to use in your Facebook video ads.
Choose from many different animations in Moovly's media libraries
Social Lab Marketing's Facebook video ad is one of the simplest examples we have, but that doesn't mean it's not effective.
The scrolling computer screen catches the attention of the viewer in the Facebook feed. Ads like this are easy to put together and are ideal for businesses selling things like courses and other digital products.
In Moovly's video editor, choose from various green screen mockups where you can put your content on a phone, tablet, or computer screen.
Use templates to jump-start your hands animation
Here's another fantastic Facebook video ad example, with the ad showing viewers how their product works.
This type of ad is ideal for someone selling software or technology. You can use Moovly's screen record feature to grab video snippets of you using your software.
You can record right within Moovly via your webcam or your screen
After recording your screen, use Moovly to record a voiceover or use Text-to-Speech and choose from different voices to narrate your ad.
Lastly, automatically add captions so viewers who don't have sound on don't miss your message. 
Another simple Facebook video ad example is this one by Reagus. 
Use a combination of images, shapes, text, and effects in Moovly's library to get your message across and capture your viewers' attention.
Our last Facebook video ad example is another one you can easily recreate on your own.
Oikos uses a combination of text, music, and videos in their successful Facebook ad. Since this ad showcases the product, you need to shoot your own video content rather than use stock videos from Moovly's library. 
However, you don't need much footage. Note how this ad only has two distinct shots: a close-up of the product and the person drinking the product. 
Once you gather your footage, upload it to Moovly, trim and rearrange, and add your finishing touches like text, music, and effects!
Tips for making successful Facebook video ads
As you start to piece together your Facebook ad, remember that complex doesn't necessarily mean better. Many of the Facebook video ad examples in this piece were simple ads without too many moving pieces.
Here are some tips to create successful Facebook ads:
Make your goals align with your content

: decide what the purpose of your video is. Is it to engage? Inform? Convert? Your purpose will help you write your script and create your storyboard.

Test different aspect ratios

: according to some businesses,

square videos perform best

on Facebook, however, test different aspect ratios to see which your audience prefers. Use Moovly to change the aspect ratio of your video ads quickly.

Add captions

: if your video uses speaking or voiceovers, use Moovly to add captions automatically.

Use high-quality media

: be sure to use quality equipment to capture your media. If you don't want to create your own images and videos, find the perfect graphics and media in Moovly's library so your video ads look professional.

Experiment: the best way to figure out which ads resonate most with your audience is to test. Create different video styles to figure out which results in the best return. You can also post your videos in Facebook groups where your audience hangs out to see which generates the most engagement. Turn those ones into paid ads to ensure you're putting money behind content your audience will love.
Make scroll-stopping Facebook video ads with Moovly
The fastest way to make money on Facebook is with ads, and you don't need to have any expensive software to create successful Facebook ads. With Moovly's drag-and-drop Facebook video maker and library of media and effects, you can create Facebook ads that blend right in with big brands!
Ready to make your next scroll-stopping money-making ad? Sign up with Moovly (for free!) and see just how easy it is!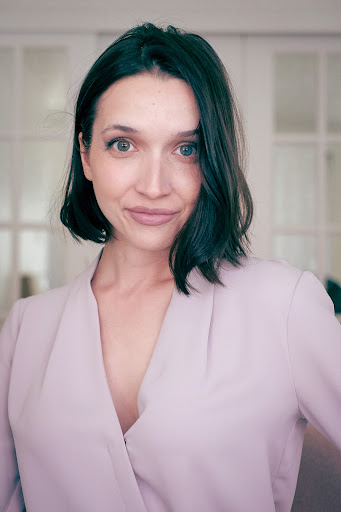 Dana is a freelance writer who works closely with B2B SaaS brands to create content people enjoy reading. When she's not working, you'll find her sipping on a warm cup of tea and reading a good book (the scarier, the better). See what she's up at www.dananicoledesigns.com 
Create your own Facebook video ad now