Did you know your Facebook page is a money-making machine? It's just sitting there, idling as it waits for you to rev the engine!
If you're not using your Facebook page to make money, you're missing out on an extra—and easy—revenue stream.
Today, I'm teaching you how to monetize a Facebook page in four simple ways.
How to make money on Facebook
Videos on Facebook drive more traffic than images, making them a valuable piece of your Facebook monetization strategy.
In other words, if you want to make money with your Facebook page, use videos.
We're covering four different Facebook monetization methods that use videos including:
Product promotion

Fan subscriptions

In-stream ads

Live streaming
Let's jump in.
This one's a no-brainer.
If you're already selling products and services, use videos to increase your reach and sell more through your Facebook page.
And consumers want to see videos about your products—54% say video is the type of content they want to see.
But before you start creating videos, set up Facebook Shopping.
First, connect your ecommerce shop to Facebook. Connecting your shop gives you access to Facebook Shops, a way for users to shop your items directly on Facebook.
It makes the buying process seamless, reduces friction, and increases conversions in your Facebook dashboard template!
After setting up your Facebook shop, create videos to promote your products. Here are some ideas where your product is the star of the show:
Tutorials:

show viewers how to do something. Make sure one of the steps includes your products. For example, if you sell candles, do a living room style tutorial, showcasing different ways to style a cozy living room with your candles being an essential component.
Demos:

show viewers how to use your product. They get to see it in action and learn how to get the most use out of it. Make sure to highlight your product's benefits so the viewer knows exactly how your product will improve their day-to-day life.
Product comparison videos:

your customers are searching for your competitors no matter what. Get in front of their questions and address your competitors with a product comparison video. Use your video to talk about the features and drawbacks of both products, but ultimately, why yours is the better option.
Explainer videos:

put together

explainer videos

to speak about each product. Discuss its benefits and features.
Customer testimonials: when your friend recommends something to you or gives a product a 5-star review, you're more likely to buy it.

88% of consumers trust online reviews

as much as personal recommendations. Put together videos of customer interviews/testimonials and nudge viewers along towards becoming customers themselves.
On the flip side, you can also hire Facebook content creators (a.k.a. influencers) through Facebook's Brand Collabs Manager to promote your products and expand your reach.
When content creators advertise your products on their Facebook pages, they'll create a Branded Content Post that tags your page: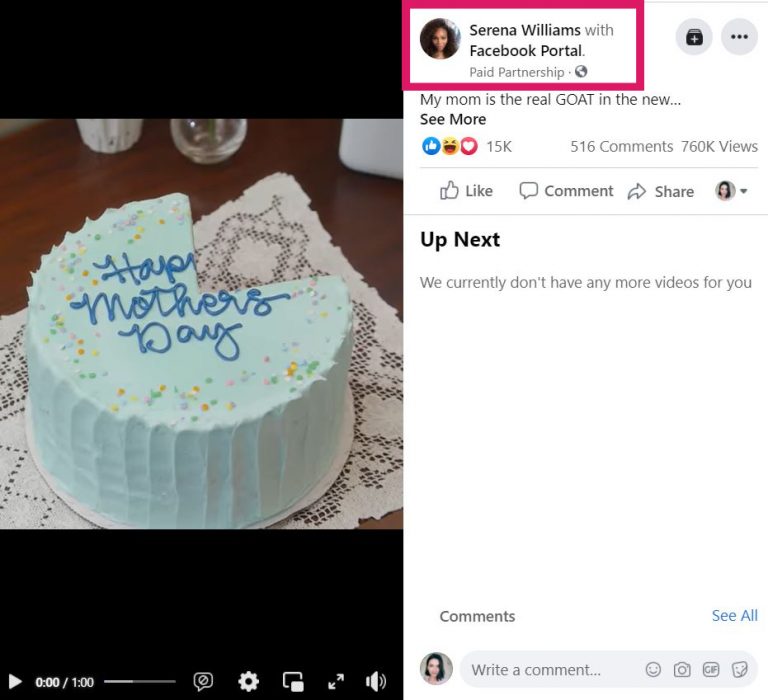 To make even more money with your product videos, turn them into Facebook ads and watch your sales scale. We put together an entire post on Facebook video ad examples you can use to transform your videos into profitable Facebook ads!
2. Fan subscriptions with exclusive content
Another great way to monetize a Facebook page is through fan subscriptions with gated content. 
Several years ago, if you wanted to create a members-only area, you needed to build a members portal website—an expensive and time-consuming task! Now, you can create paywalled communities right within Facebook. Similar to Patreon, Facebook lets users create a private group only accessible for paying fans. 
You can post things like exclusive member-only discounts, personalized videos, and more.
Take Royal Central's paid group:
Screenshot of a Facebook page with a "Become a Supporter" button.
When you click Become a Supporter, a popup prompts you through the payment process.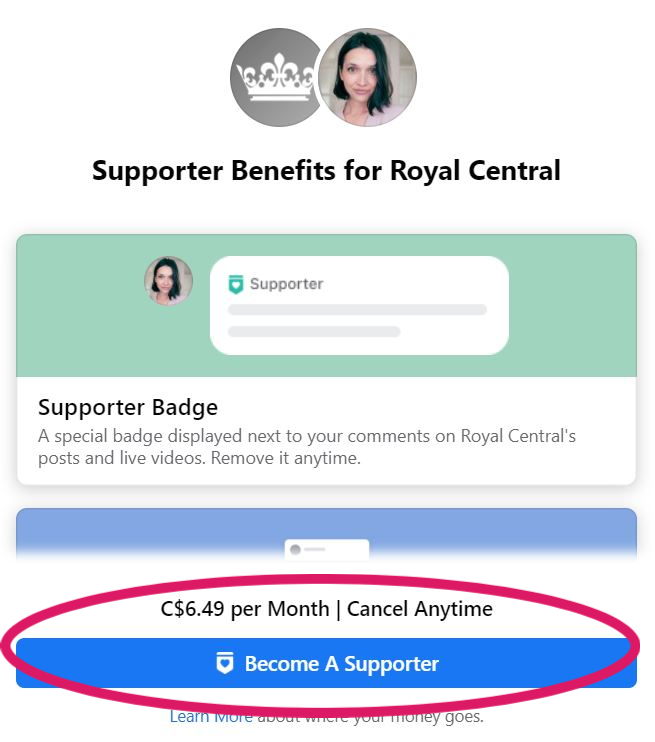 To monetize your Facebook page through subscriptions, you need at least 10,000 followers or 250+ return viewers and one of the following in the last 60 days:
50,000 post engagements

180,000 watch minutes
Most subscription fees range from $4.99 to $29.99 per month. Let's take the average out of those two ($17.49) and see how much you could make with a 10,000 follower page.
If only 2% of your 10,000 followers join your subscription (200) you can earn an additional $3,498.00 every month.

But what type of content should you post in your group?
First, Facebook recommends creating promotional video and thank you videos within your subscription groups to "to explain the perks to your target audience and express gratitude for their support."
Because people pay to be part of fan subscriptions, recording simple videos from your phone won't cut it. Your members expect something more professional in exchange for their hard-earned dollars.
Using Moovly you can create, edit, and polish professional videos that your brand fans will love. We show you how to make Facebook videos later in the article. Sign up for your free account and give it a try!
3. In-stream ads (Facebook ad breaks)
The easiest—and our favorite—Facebook monetization method is to place short ads within your videos.
You can earn income with in-stream ads—also known as Facebook ad breaks—by placing ads in your Facebook videos.
To qualify for in-stream ads you need:
At least 10,000 followers

600,000 total minutes viewed in the last 60 days

A page with at least five active videos
Here are some quick tips for making money on Facebook with in-stream ads:
Get to know your target audience

: review past posts to see which ones people "liked" the most. Understanding the types of content your audience already enjoys watching makes it simple to come up with future videos.

Hook your viewers right away

: the longer they watch your videos, the more ads they'll see, the more money you make.

Place ads strategically

: use cliffhangers and place ads after your cliffhanger to encourage viewers to stick around after the ad to continue watching your content.

Add captions

:

85% of people

watch Facebook videos without sound. Use Moovly to automatically add captions to your videos, otherwise, you'll miss out on a huge audience.
When creating videos to monetize, follow Facebook's content guidelines to ensure your videos don't get taken down.
The last way to monetize a Facebook page is through live streams. When you go live, viewers can buy stars and gift them to you—similar to bits on Twitch. You then exchange those stars for money.
Here are a few live streaming examples:
Offer free mini consultations. Viewers get a taste of your expertise and in return, are likely to give you stars.

Show behind-the-scenes

Host a contest

Perform a task and do a tutorial

Important announcements for your business
The best thing about live streaming—other than the money you'll make—is the ability to repurpose your live stream videos.
For example, if you offer a free mini-consultation over live stream, download it, use Moovly to polish and edit it, and then reupload it to Facebook so viewers can watch it even if they missed it live.
You can even place ads on your repurposed live streams to increase the amount of money you make from each video!
How to create videos that make money on Facebook
Now you know how to monetize a Facebook page using video, it's time we show you how to make compelling videos using Moovly—a cloud-based drag-and-drop video editor.
First, sign up for your free account to follow the tutorial!
Step 1: Start creating your video
After logging into your free Moovly account, click Create project.

Click the "Create project" button to get started
With Moovly you have three options for creating videos:
Search through

Moovly's template library

and use a template

Create your own video from scratch

Create a video based off a PowerPoint
Choose from three different options to start your video.
Choose your option to open the video timeline editor.
Step 2: Gather your media
Our media library is filled with millions of stock images, stock videos, sounds, graphics, effects, and more! You are free to use the content in the library to make your videos or import your own content.
With Moovly's drag-and-drop editor, you don't need any experience to piece together your video. It's intuitive, simple, and requires no training to use!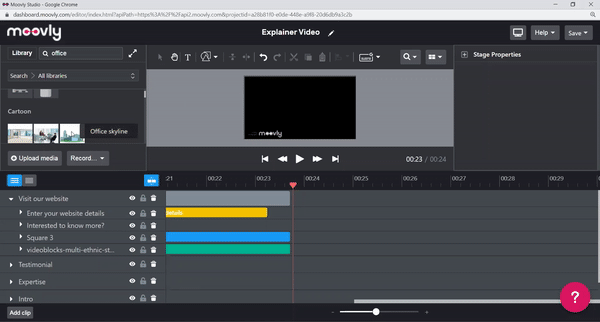 Drag and drop your content in Moovly's editor
Step 3: Add effects and other final touches
After gathering and arranging your content, spruce it up with effects and other final touches.
You can find effects within our video editor, record voiceovers, use Moovly's text-to-voice to automatically create voiceovers for you, and even automatically generate closed captions for your content.
Once your video is ready, publish it straight to Facebook from Moovly, or download it to upload at a later time.
Make piles of money on Facebook with Moovly
There are plenty of ways to make money on Facebook: product promotion, fan subscriptions, in-stream ads, and live streaming.
And while that might feel like a lot of content to create, you can use Moovly to splice and mix your content into new videos, saving you time and helping you make more money in the process! 
Start making money on Facebook with Moovly. Sign up for free today!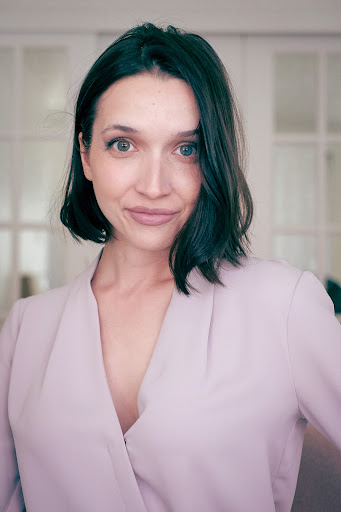 Dana is a freelance writer who works closely with B2B SaaS brands to create content people enjoy reading. When she's not working, you'll find her sipping on a warm cup of tea and reading a good book (the scarier, the better). See what she's up to at www.dananicoledesigns.com
Create your own Facebook video now