We've all seen bad corporate video examples: a stuffy office setting with someone awkwardly reading a script line by line about their amazing company.
It almost feels like they're trying to convince themselves of its greatness, rather than the viewer…
But for every bad corporate video, there are plenty that inspire, educate, and excite.
Today, I'm showing you some excellent corporate video inspiration, along with steps to make your own.
What is a corporate video?
A corporate video is a video that corporations use to build awareness for their brand, company, or products.
They're one of the many videos for business you can create, along with marketing videos, training videos, explainer videos, and customer testimonial videos—just to name a few. 
Corporate videos tend to talk about the business as a whole rather than dive into specific products; save your explainer videos for detailed product pitches. However, as you'll see in the examples below, you can still mention your company's products.
Why are corporate videos needed?
The first reason corporate videos are effective—and why you need them—is their ability to put your company at the front of your viewers' minds: nearly two-thirds of shoppers say watching videos gives them shopping ideas. If you want customers to remember and buy from your business, keep videos at the front of your marketing strategy. This is one of the best ways to build your corporate branding.
Secondly, 83% of consumers want to buy from companies that share their values. Use your corporate videos to highlight things your organization cares about so consumers want to purchase from your company.
10 great corporate video examples
No matter what type of business you have or who your end customer is, these corporate video examples will inspire you to create your own.
Eagle Builders is a construction company but notice how they don't focus their video entirely on specific projects. They're a great example of a company video that talks about their story—like when they mention their family ties—rather than focus on their offerings. 
It's apparent that although Eagle Builders takes on massive construction projects, they want to retain the feeling of a family company, which is felt through their videos via the interviews and behind-the-scenes shots of people working together. 
ETSI's corporate video uses a combination of animations, narration, stock videos, and their own video content. This example shows us that you don't necessarily need to interview people on your team for a quality video. Through narration and complementing graphics, ETSI explains their company and what they do.
With Moovly's corporate video editor, you can easily create a video that doesn't feature team members. Our media library is packed with millions of stock videos and photos, media, music, and graphics. Then, use our text-to-speech feature to add automatic narration without needing someone on your team to narrate.
Coca-Cola is an example of a corporate video that doesn't use narration, and instead uses a catchy background song with text over their video clips to get their message across. This type of video works well when you want your own content to be the star of the show. In this case, Coca-Cola wants to associate positive feelings with their brand, and they use video clips from the past and the present to do so.
You can easily create this style of corporate video within Moovly. Simply upload your own video footage to Moovly's editor and add text, transitions, and animations where needed.
While you can use corporate videos to discuss your values, you can also use them to talk about changes within your company—especially big ones. Take Microsoft's rebrand. Microsoft's engaging corporate video talks about a rebrand they did for their headquarters in L.A. What's interesting is that Microsoft also includes interviews from the branding agency that helped with the rebrand.
Your corporate videos can include outside testimony if it helps bolster the message you'd like your audience to receive.
This animated corporate video proves you don't need real people in your videos to create something engaging. Using animations, SwiftPass explains who they are and what they do in a fun way.
The best thing about cartoon corporate videos? You don't need any experience to create them. Within Moovly's library, you'll get access to premade animations you can customize for your videos.
Earlier, we saw how Eagle Builders successfully gave their corporate video a "family feel". But how do you build that level of intimacy with bigger brands?
Honda's corporate video is the perfect example. Throughout the video, you hear from plenty of Honda employees from around the world. Each describes what Honda—as a company—means to them.  
If you want to emit this same feeling for your corporate video, consider letting your employees do the talking.
7. Three Sixty Property Group
For this corporate video, the narrator discusses the values of Three Sixty Property Group alongside accompanying video clips. One thing to notice is how Three Sixty Property Group created their own video clips rather than use animation or graphics. While animation works well for certain brands—see the SwiftPass example above—some videos work better with real people.
When making your own corporate video, take your brand into account to determine which video style suits your business.
NIBC does a great job connecting their core value of "reflection" and translating it into a video. The metaphors and visuals make it easy to remember what NIBC stands for. Out of all the corporate videos on this list, NIBC is the one that best distills their core values into something memorable.
9. University of Bayreuth
Students nowadays don't just want an education from their university. They want to develop a mix of hard and soft skills, which is exactly what The University of Bayreuth conveys through their corporate video. 
The University of Bayreuth created this motivational corporate video showing prospective students what's possible through attending their school—both personally and professionally. 
Apple is a pioneer in technology and their corporate video reflects this by showing a range of people using their products in different scenarios.
But the biggest twist comes at the end when a single line of text shows on the screen that reads "Shot in one day entirely on iPhone."
Apple strategically lets its product and values shine without saying a word. You can check more of these examples using this link.
How to make branded corporate videos
It's important your videos are professional, well-made, and provide useful information for viewers. But that doesn't mean you need to run out and hire a corporate video production team. You and your team can create a great video concept on your own by following these steps.
Step 1: Pick your corporate video production tool
Creating corporate videos yourself requires the right tools. There are plenty of video tools, but not every tool has features that cater to corporate video production.
When you sign up with Moovly, you'll get access to corporate-specific features like:
Brand restriction:

restrict colors and typography within Moovly's video editor to maintain brand compliance. 

Digital Asset Management (DAM) integration:

Moovly integrates with popular DAMs

so your team can always access branded collateral. If we don't connect to your DAM, we'll make a custom connection for you.

Template creation:

ability to create video templates for employees to use repeatedly that align with your brand.

Team collaboration:

give different team members access to Moovly, with certain rights, for greater collaboration. 
White label our video editor: Add your company's colors and logo to the video editor, give it any name you'd like, and make it feel like a tool you truly own.
Step 2: Create a library for your brand assets
Some of the best corporate videos are easily identifiable. Take the Coca-Cola one in the examples above. It's easy to tell who the video is for through their use of branded media. 
To make it easy for your team to stay on-brand, connect Moovly to your Digital Asset Management or create a brand asset library within Moovly. Within your brand asset library, upload anything your team needs like logos, graphics, or company-made photos and videos.
Step 3: Choose a video format
The format or style of your corporate video depends on your brand. Playful brands might want to make a cartoon corporate video while luxury brands may lean towards footage-based videos.
Using Moovly's corporate video editor, you can choose from multiple styles: cartoon, documentary, footage-based, whiteboard hands, screen recording, or a mix.
Step 4: Write your script and create your storyboard
Your script and storyboard are the backbone to your corporate video. In your script, include any narration and/or captions you want in your video.
As for your storyboard, include which graphics you'd like to have and when you'd like them to appear in relation to your script.
Step 5: Gather your corporate video content
If you're creating your content from scratch, now is when you'll hold your corporate video shoot. Otherwise, use the media from your DAM or use Moovly's library to find graphics and media for your video.
Moovly's library contains millions of high-definition graphics and media to use in your corporate videos
Step 6: Make, edit, and share your video
After collecting your media, it's time to put everything together! If you prefer, you can start with one of our many video templates to help you figure out your format.
Moovly has a library of different templates to help you put together your corporate videos.
You can also start from scratch or upload a PowerPoint to get started. Moovly has a variety of effects and transitions you can easily apply to your scenes so your video feels professionally made.
Raise brand awareness and create a memorable corporate video with Moovly
Corporate videos are the perfect way to build brand awareness while entertaining your audience. And luckily, you don't need any special training to make a successful company video nor do you need a fancy production studio.
With the right preparation—writing your script out and planning your storyboard—and the right tools, you can create a company video that looks professional and is enjoyable to watch.
Team collaboration is a hot topic right now for remote working and with Moovly's tools and features specifically for enterprises, you can keep your team on the same page at all times and create a video that is perfectly aligned with your company's brand and values.
Ready to try it out? Make your next corporate video using Moovly!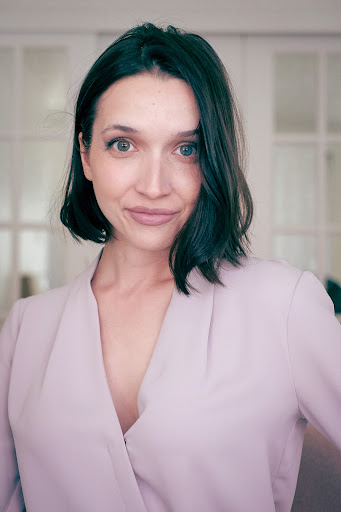 Dana is a freelance writer who works closely with B2B SaaS brands to create content people enjoy reading. When she's not working, you'll find her sipping on a warm cup of tea and reading a good book (the scarier, the better). See what she's up at www.dananicoledesigns.com 
Create your own whiteboard video now