The explosive rise in video sharing platforms like TikTok and Instagram Reels means one thing: people love watching videos. And I'm not just talking about cat videos (although who am I kidding, a cute cat video is worth watching every single time). People enjoy watching videos of all types, and according to Hubspot, nearly 9 out of 10 people want to see more videos from the brands they love. 
But as a small business owner, you're stretched thin while juggling multiple tasks. And while you know how beneficial video marketing is, you're hesitant to jump feet first into an expensive video marketing strategy. Fortunately, creating videos for your small business is a breeze (and easy on the wallet)! 
Today, I'm showing you five different small business videos you can effortlessly add to your marketing strategy. Let's jump in.
1. Company introduction video
The purpose of this business video: to build an emotional connection between your brand and audience.
Imagine walking into a room full of strangers at a networking event. What's the best way to connect and build relationships with attendees? I can tell you one thing: it's not by hovering over the buffet tables (no matter how good the hors d'oeuvres look). The quickest way to get yourself known—and begin building rapport—is by introducing yourself and striking up conversations. And for your business, you need to do the same.
Although it's not feasible to speak to everyone in your audience one-on-one, you can create a company introduction video that does the talking for you.You can show your company culture, share your brand slogan, speak about your values and goals, etc.
When done right, it will feel personal and build a connection between your audience and brand. And in today's world, personal connections lead to big payouts: 76% of consumers report they'll buy from brands they feel connected to (instead of buying from the competition).
Take The Little Potato Company and their introduction video, for example:
They do a fantastic job introducing who they are, showing different team members, and talking about their product in a way that draws emotion from their viewers to build a connection.
Tips for making a company introduction video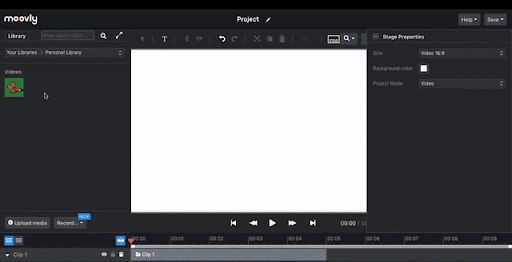 Use Moovly's chroma key technology for greenscreen in your introduction videos
Remember: great company introduction videos don't just introduce the company. They tug at their audience's pain points to help them understand why they should care about your brand.
2. Product explainer video
The purpose of this business video: to help your audience understand how your product will solve their problems.
You might have the best product in the world, but if your audience doesn't understand how you can help them, they won't buy what you're selling.
Explainer videos break down your offerings and clarify what they are, and most importantly, how they'll help your audience. Wholesome Meats, a regenerative beef brand, put together an entertaining explainer video to educate their audience about their product.
Their explainer video simplifies a complex topic so their audience knows why they should buy beef from Wholesome Meats.

Aside from educating your audience, a good explainer video also improves brand awareness. Marc Trevino, Wholesome Meats' Director of Marketing has seen impressive results from the above video and says that:
"In seven days since posting the video, [it] has seen almost half a million views across YouTube and Facebook. [We've] also seen an impressive 62% increase in web traffic and a 5% uptick in social media followers." – Marc Trevino
Tips for making an explainer video
Keep these points in mind while creating your product explainer videos:
Simplify complex topics

: introduce your viewer to your offerings. Keep it simple and avoid delving into complicated topics.

Get straight to the point

: attention spans are short. Dive straight into your video content to prevent people from checking out (and clicking away).

Explain what problem your product solves for your audience

: rather than present a laundry list of product features to your audience, showcase the benefits.
Unlike company introduction videos where we recommend using real people, your explainer videos can be created in any style.
Our template library has templates specifically made for explainer video formats:
View examples made in Moovly
3. Customer testimonial video
The purpose of this business video: to move people from prospective buyer to enthusiastic customer.
Think back to your last online purchase. If you're like 89% of consumers, you probably read several reviews before hitting the "buy now" button. The truth is, consumers need to feel reassured in their purchases and there's no better way to do that than through customer testimonial videos.
Reviews and testimonials are powerful tools to nudge people from prospect to paying customer. Love Wellness, a female wellness brand, creates testimonial videos (like the one below) that shares stories from different customers:
Lo Bosworth, the founder of Love Wellness, finds that testimonials add an additional layer of brand security for customers on the verge of making a purchase:  
"As an empowering female wellness brand, we understand that many of our consumers spend a significant amount of time researching the best products that will work for them. Highlighting actual customers on our website and social media pages provides an additional layer of brand security for these potential consumers." – Lo Bosworth
Each video focuses on the story of the customer, uncovering their frustrations prior to finding Love Wellness, along with the ways the products changed their life.
Tips for making a customer testimonial video
Your customer testimonial videos need to tell a story. Like every good story, they need a:
Beginning

: where they (your customers) talk about their problem and journey to find you

Middle

: discussing why they ultimately decided on your products

End

: where they talk about what they love about your product and their results
These simple stories help other potential customers envision how their life would look if they purchased your product.
To extract these stories from your customers, consider asking the following questions:
Who are you/what do you do? (

Make sure the people you feature in your videos align with your target market

)

What challenge(s) did you face before finding our product? 

How did you feel before finding our product?

How did you feel once you found our product?

Why would you recommend our product?
When filming your customer testimonial videos, let your customers know they don't need to be perfect. Using Moovly, you can easily split and trim your footage to remove any unwanted scenes, like areas where your customers mix up their words or forget what they want to say.
Split your video footage in Moovly so only the best content ends in the final cut
4. Instructional "how-to" video
The purpose of this business video: is to build affinity with current customers and help them understand how to better use your product so they turn into lifelong brand fans.
Have you ever had flat-pack furniture turn out horribly wrong? The assembly instructions never seem to contain enough details and it isn't until you're nearly done building your furniture that you realize somewhere along the way, you messed up.
Avoid being the flat-pack furniture of your industry by giving your customers easy-to-follow instructional videos so they can properly use—and get the most out of—your product.
Jane Neo, the co-founder and brand director behind KeaBabies, says they use "how-to" videos to assure their community and help new parents grow. Their video (below) helps customers understand how to use their baby wrap:
KeaBabies uses both subtitles and a voiceover to make sure their audience can easily follow along with their video tutorial. You can quickly add voiceovers and subtitles to your videos using Moovly.
And in the process, you'll also improve your bottom line. You're 60%-70% more likely to sell to existing customers, and one way to keep existing customers happy is by giving them what they need right from the start (in this case, your instructional videos).
Tips for making a "how-to" video
Developing empathy towards your customers helps to understand their challenges. When you know what they struggle with, you'll know what type of "how-to" content to create.
The best way to understand where your customers are getting stuck is by:
Asking them directly

Reading your 1-3 star reviews to find common themes of complaints or frustrations that can be addressed through instructional content

Reading 1-3 star reviews of your competition to find common themes of complaints or frustrations

Surveying customers through your email list to see what they'd like help with
After knowing what areas cause the most pain for your customers, you'll know where to prioritize your video production efforts.
5. Social media marketing video
The purpose of this business video: to promote your brand and offerings on social media platforms like YouTube, Facebook, Instagram, or TikTok (to name a few).
There are different goals you might have for video promotion on social media: increased sales, increased traffic to your website or social platforms, or even more leads to bolster your email marketing. Regardless of your goal, creating videos for social media is an effective way to reach your goals and audience.
For video ads on social media, you can either use content from previous videos or start from scratch.
Inglewood Drive In, a fast-food restaurant, put together an ad with various video clips and text to use for their ads on Facebook and Instagram:
Shanna Kolba with Inglewood Drive In says that:
"The video ad, while simple, was highly effective in generating brand awareness and growing our social presence." – Shanna Kolb
Tips for making a social media marketing video
When creating videos for social media, it's essential to tailor each video to the platform you intend to promote them on. Harris Rabin with R3SET, a stress management supplement brand, is no stranger to creating social media marketing videos. He notes that:
"When we film the content we make multiple edits for a variety of platforms the video will be published on. Audiences have different retentions across different platforms." – Harris Rabin
On top of the audiences having different retentions depending which platform they're on, each social media platform also has different allowable lengths and aspect ratios for ads.
But don't let that discourage you! Using Moovly, you can quickly trim your videos, move content around with the drag-and-drop editor, and change the aspect ratios for your videos in one easy click. They'll look fantastic on every platform you advertise on.
Use the drop-down menu to instantly change the aspect ratio of your social media videos within Moovly
Create your small business videos using Moovly
Small business video marketing doesn't need to be expensive or complicated, and creating professional videos for your small business doesn't require a big budget. 
Using Moovly's intuitive drag-and-drop video editor, you can create all five small business videos in a snap. 
Get a headstart with one of our many small business video templates and save time by using content from our vast media library! 
Take your video marketing to new heights and sign up with Moovly (it's free!).
Dana is a freelance writer who works closely with B2B SaaS brands to create content people enjoy reading. When she's not working, you'll find her sipping on a warm cup of tea and reading a good book (the scarier, the better). See what she's up to at www.dananicoledesigns.com