Although popular shows like Netflix's Selling Sunset and HGTV's House Hunters make the real estate biz look like a walk in the park, that couldn't be further from the truth.
Selling homes is incredibly competitive, but with the right real estate marketing strategies, your agency can stand out, get more clients, and close more deals—all without much additional work.
10 real estate marketing ideas for 2022
73% of homeowners say they're more likely to list with an agent who uses video to sell a property. But despite video being vital in the home buyer's journey, only 10% of recent sellers said their agent used video effectively to sell their property. 
To improve your real estate marketing strategy via video, we put together ten ideas to help you generate leads, gain clients, and close more sales.
1. Develop a social media strategy
More than 30% of realtors reported closing at least one transaction a year as a direct result of their activity on social media. Moreover, 60% of surveyed agents list social media as more important than a website. If social media isn't part of your marketing plan, it needs to be.
Madison, known as The NYC Agent on TikTok, grew her TikTok account to 10,000 followers in only three months. In 18 months she surpassed 100,000 followers. When asked how video helps her as a realtor, she responded that "nearly 100% of business [now comes] from TikTok." 
To cast the widest net with your social media strategy, upload your videos to multiple platforms like Instagram, Facebook, and TikTok. Use Moovly's drag-and-drop video editor to make videos quickly. Export them into different aspect ratios with the click of a button, so each video looks fantastic no matter which platform you post it on.
2. Start a YouTube channel
With 122 million active daily users, YouTube is a video giant that deserves its own spot on our list of real estate marketing ideas. 
Andrew Iremonger, owner of Emerald Group Powered by eXp Realty, notes that YouTube is the social platform his realty agency uses to generate sales: "Last year [YouTube] brought in 12 sales equally over $110,000 in commissioned income. I expect that number to double this year, if not more, based on current performance." – Andrew Iremonger
Andrew notes you don't need a large channel to see big results. His channel only has around 1,700 subscribers, but their highest viewed video has over 25,000 views.
Andrew's YouTube channel has a mix of real estate tips, property listings, and information about the area his team serves. Image via Life on the Emerald Coast
While YouTube might seem laborious, you can save time and create thousands of videos automatically using Moovly's Video Automator. Every time you have a new listing, Moovly will make a video with the relevant information from the listing. From there, Moovly uploads the video to your set playlist on YouTube. You can grow your YouTube channel without lifting a finger while simultaneously advertising your listings!
3. Film virtual home tours
For 44% of recent buyers, the first step of buying a home was to look online at properties.
To make your property listings stand out, create virtual home tour videos and make viewers feel like they're actually walking through the home.
Kristyn Neal is the Marketing Director for Northeast Private Client Group and uses videos to share key points of interest about each property. She notes that property listings with videos get more engagement: 
"We typically see about 1.5 to 2.5 times the engagement with properties that have a video feature post compared to those that don't (depending on the property and its location)." – Kristyn Neal
Using Moovly, create a single template and swap out text, imagery, and media to produce virtual home tours at scale.
4. Experiment with paid ads on social media
While you can reach plenty of people organically via social media, paid advertising places you directly in front of prospective buyers and sellers.
Here are some examples of how realtors can use paid ads:
Add a pixel to your site and retarget people who view certain properties


Upload your email list and target ads towards people in certain segments, like people looking to buy investment properties or people interested in selling their homes


Create a custom Facebook ads audience for people in your area and get your agency's name out to a brand new audience
Real estate agent Dawn Magee's Facebook video ad shares tips for people thinking of selling their homes:
5. Create "about me" videos with your agents
73% of buyers only interviewed one real estate agent, and 82% of recent sellers only contacted one before settling. People aren't out "shopping" for real estate agents and you can't rely on them to come to you. You need to get your agency in front of people so they know who you are.
Create "about me" videos using your templates in Moovly. Quickly swap out text and photos for each person on your team and upload the videos to your website and social media. This way, people can get to know your realtors and build a connection with them.
6. Ask clients for testimonials
The most important trait people look for in a realtor is reputation. But as Erik Wright, a real estate professional with over 15 years of real estate experience points out, trust is challenging to convey in real estate:
"In [real estate], trust is a difficult concept to grasp. Not only is buying real estate a big financial decision, but it's also a big lifestyle decision that influences your day-to-day existence. Allowing [past clients] to speak for you is the best approach for real estate marketers to build trust with their leads." – Erik Wright
But asking clients for online reviews isn't enough. You need a streamlined approach for distributing those reviews and putting them in front of potential buyers. 
Moovly's Video Automator lets you build a strong reputation on autopilot. Every time someone leaves you a review online, Moovly will automatically create a video and post it to your social feeds.
7. Start an email list and send videos often
Email lists give you direct access to prospects and customers. Send out frequent newsletters—at least once a month—with helpful info like buyer and seller tips and new property listings. 
And whenever you make a new video, send it to your list. Adding the word "video" to your email subject line, increases open rates by 6%, making it easy to notify clients of new properties.
8. Improve your SEO by adding videos to blog posts
While adding videos to blog posts doesn't necessarily help you rank higher, videos tend to improve metrics like time on page as people will stay longer on your site to watch your videos. When people spend more time on your website, it can have a positive impact on your SEO. Thus, videos indirectly boost your SEO and help you rank higher in the search results. 
9. Create explainer videos on hot topics
Creating content on hot topics can help you gain traction and even go viral if you're one of the first to create content on the topic. To find trending topics, use Google Trends. Search for topics within real estate and see if Google predicts a spike in interest.
For example, Google Trends shows a forecasted spike in interest rates in Canada. If you work in real estate in Canada, this is a topic you'd want to create content for, stat.
Use Moovly to quickly create explainer videos on trending topics with our professionally-made templates. Share the videos across your social accounts and with your email list, and upload them to your website for maximum exposure.
10. Create videos for virtual stagings
22% of agents report that staging homes helps them sell homes faster. And with more people looking at properties online, virtual stagings are a no-brainer. 
Virtually stage properties, and with your video templates in Moovly, add your staging images to create staging videos for each property. Add these videos to your listings and send them to interested buyers to spark interest in the property.
Add Moovly to your real estate marketing plan
Adding video to your real estate marketing plan is easy with Moovly's video editor and Video Automation tool, plus, you don't need any experience to get started!
Book a call today and start making videos on autopilot with Moovly.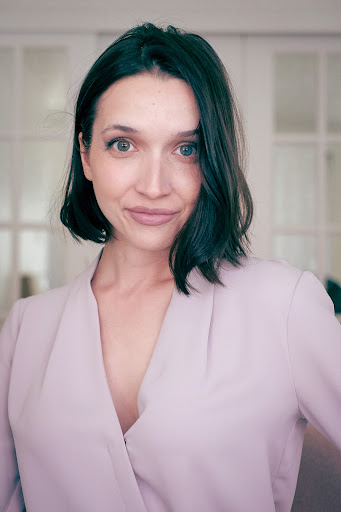 Dana is a freelance writer who works closely with B2B SaaS brands to create content people enjoy reading. When she's not working, you'll find her sipping on a warm cup of tea and reading a good book (the scarier, the better). See what she's up at www.dananicoledesigns.com 
Create your own whiteboard video now