The #1 Training Video Maker
Easily create training videos with Moovly, in any style and about any topic. Compose your video content using millions of media objects or customizable templates.
Join millions of users and create your own training video in minutes
No software installation required. All you need is a browser.
Choose a training video template or start from scratch
Pick a video template and modify it to match your content needs. Or start from a blank canvas, record your screen or webcam, add text, graphics and animations. Your training video will be ready in no time.
Drag and drop media to create training videos in any style
Choose the best didactical format for your content: animated graphics, cartoons, doodles, stock footage, or a combination of the above. Add voice, text or subtitles. Create brand-aligned videos using your organization's fonts, colors or other digital assets.
Download your new training video or add it to your LMS
Download your video in HD format, translate it to any language with one click, share it with a restricted audience or publish it on any platform, including your LMS.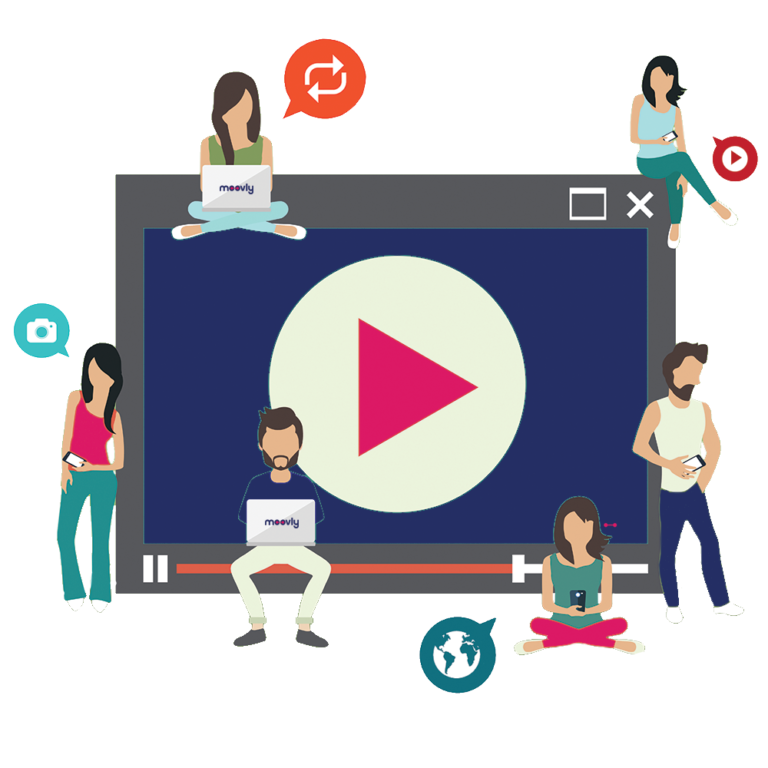 Get started quickly with a template
We used Moovly to create video templates for a client offering several variations of their services. We changed the audio and updated a few relevant images and walla! We ended up with a powerful marketing tool.
Before buying the licence, I used several trials from different companies, however I decided on Moovly because of how easy it was to use, since I don't know much about making videos.
Moovly is fun and fairly simple. The graphics are clear and concise. It is fun to play around with. There are some green screen images which are easy to teach about layering, green screen, and transparency. The support was excellent.
It is very simple to work, a few minutes after using it I was already creating my first video, professionally and very quickly.
Moovly has been an excellent product and does what it is advertised to do. Nothing was over-promised, there was no bait-and-switch and no high-pressure up-sells. Moovly seems to be an ethical company and these are becoming a rare find.
Easy to use, you can really make amazing anything with it. Presentations, moving clips, anything. This is a powerful tool with so many options I love it.
"Moovly offers the possibility to create in-house videos. The tool is easy to understand and offers a lot of creative options. We chose Moovly because it's a user-friendly tool that everyone can easily use no matter their role in their own organizations" ​
"We did a thorough evaluation of the market and after a detailed evaluation of Moovly and competitors, selected Moovly. Our experience since signing has been excellent and we have found Moovly to be both responsive and flexible to our needs."
Tool is very simple to use and contains a great library of stock content making it quick and easy to churn out adhoc content without the need to be an expert in animation.
Customer service has been very responsive, and the help center has easy to follow steps to resolve my problems. I am enjoying using Moovly.
I have just signed up with Moovly and was most impressed with the simplicity of using the software. I was able to jump straight in and produce my first video within a day. The library had great audio, video, and stock images to choose from as well.