Impressing clients and keeping team members up-to-date through engaging presentations is an essential part of every consultant's job. And as a consulting manager, you want to empower your team to create those engaging presentations.
Many consultants turn to PowerPoint or Google Slides to create slide decks and presentations. But there's one big problem: slides are clunky to make and even more boring to sit through.
But what's the alternative for consulting teams who aren't design-savvy and need to whip together something reasonably fast?
Finding a viable alternative to PowerPoint
One Fortune 500 business consulting company found a solution: replace slides with videos using Moovly. Rather than spend hours making dull slide decks, they built attractive brand-compliant video templates for their consultants to use.
Today, we're going to discuss the benefits of using videos over traditional slides, and go over three different ways the above Fortune 500 consulting company used Moovly to improve the way they present and share findings.
How a Fortune 500 business consulting company benefited after switching from slides to video presentation
It's no surprise that a Fortune 500 business consulting company found success using video over traditional slides. Afterall, according to Forrester Research, people are 75% more likely to watch videos than read print.
Here are the benefits the consulting company found, and that you'll find too, by switching to Moovly for video creation:
Get the point across faster
People process visuals 60,000 times faster than text. Replace text-heavy slide decks with videos and get your point across faster and more effectively.
Have a central team create templates that local teams then use as a base to make videos at scale.
Create brand-compliant presentations quickly
Feel confident knowing your team is using brand-compliant tools instead of piecing presentations together with various elements from Google Slides, PowerPoint, or Canva.
Streamline team alignment and work collaboratively
Work fast and waste less time going back and forth on presentations. Through Moovly's video collaborative review and annotation feature, users can leave comments—either at specific timestamps or in general—to give feedback and critique. This allows teams to put together presentations faster and stay on the same page, even when many hands are working on the same presentation.
Know exactly what clients are receiving
With Moovly's collaborative feature, review and approve videos before sending them off to clients.
Save time through master templates
Get your team to create visually-appealing presentations every time—no design experience required. With templates, teams no longer need to worry about starting from scratch with each presentation. Simply get your team to replace the text and media elements, and they'll have new videos ready to go.
More engaging presentations
59% of executives prefer videos over text. Engage your audience through video presentations rather than relying on text-heavy PowerPoints.
Integrate your assets for brand-compliance
Moovly integrates with your Digital Asset Management system so your team can access your assets quickly.
Translate videos into any language instantly
Stop passing the task of video translation to employees or external help. Using Moovly, translate videos into 100+ different languages with the click of a button, so your team can spend their time on tasks that better serve your clients.
Workflow ideas for consulting teams
Here are two ways your consulting team can use Moovly to replace slides. 
Disclaimer: when we refer to "templates", we're not referring to the common templates.
As every consultant project will be different from each other, a template in this case is a set of pre-made clips that your consultants can use as an example to start creating videos. Consultants can delete clips they don't need and custom the ones they like.
1. Share reports and research with clients
Share reports and research with clients
Your team of consultants and your clients
Your central team makes brand-aligned templates and saves them to the central libraries for local teams to access 

Local teams adapt content from the templates and translate them using Moovly's translation feature and then share the templates with local consultants

Consultants create videos from a template

Reviewers (

other internal users and team members

) leave comments and notes on the video, indicating where to make changes

If necessary, a manager approves the video

Video is saved, rendered, and shared with the client

The client watches the video and stays up to date on your research
When clients feel you're sufficiently updating them, they'll be less inclined to reach out and ask questions that may disrupt your team's workflow. Clients will appreciate your team updating them on projects with easy-to-digest information.
2. Share research and studies with internal teams
Keep the momentum going by sharing research and studies with internal teams
Your team and other internal colleagues
Central teams make brand-compliant templates 

Regional manager reviews and approves templates and shares them with the analyst

The analyst uses templates to create videos

The analysts share videos with managers, directors, and VPs for approval

After approval, videos are added to an internal platform via an API
Keep research in one centralized place so internal members can access it quickly. Keep everyone on the same page at all times.
More reasons why Moovly makes an excellent PowerPoint alternative
1. White-labeling options
White-label Moovly with your company's name and logo, so users only see your consulting firm's branding on the software.
2. Automation
Moovly integrates with Google Sheets and Microsoft Excel Online for automatic video creation. Moovly pulls information from Google Sheets or Microsoft Excel Online to create multiple videos with different information (automatically).
3. Back-office management
Through Moovly's back-office management, managers get useful information and analytics. Managers can assign available licenses, create and manage group libraries, and customize the dashboard and the editor. You can also see analytics about user usage.
Ready to replace boring slides with eye-catching videos?
With videos, your team can create attractive presentations and share findings with clients and colleagues. Making videos with Moovly is the perfect alternative to PowerPoint presentations because:
Users don't need prior video editing or design experience to create visually-appealing content

Large teams can collaborate virtually through Moovly's comment and review system

Moovly integrates with your Digital Asset Management system and allows you to restrict colors and typography, so your videos always remain on-brand 
Ready to use Moovly as your PowerPoint alternative? Contact us to get started!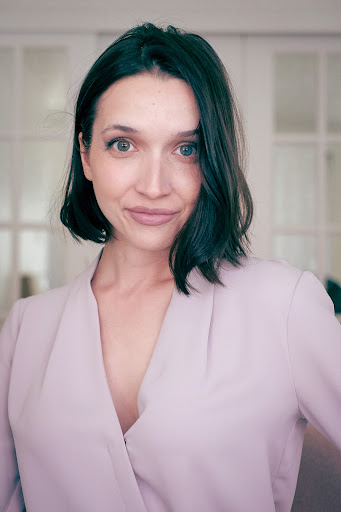 Dana is a freelance writer who works closely with B2B SaaS brands to create content people enjoy reading. When she's not working, you'll find her sipping on a warm cup of tea and reading a good book (the scarier, the better). See what she's up at www.dananicoledesigns.com 
Create your own video now