Buying a new car feels futuristic.
Potential buyers no longer need to leave home to inspect vehicles they wish to buy, and instead, opt for 360° videos to replace test drives and inspections.
What's more, car buyers now spend most of their time researching online before setting foot in a dealership.
Marketing is shifting fast in the automotive industry, and finding automotive marketing strategies to satisfy your tech-savvy consumer might make you feel dizzy. However, there are many low-cost initiatives to get new customers. As a bonus, they're incredibly simple to implement.
6 easy automotive marketing strategies to drive sales
1. Add videos to your digital marketing strategy
Video marketing has been gaining momentum over several years. With the explosion of platforms like TikTok, there's no slowing down in sight. However, as a car dealership, you might wonder whether videos are the right call for your marketing initiatives. After all, aren't videos better suited to dancing influencers or brands that do cooking and crafts? 
Surprisingly, not really: car shoppers are tuning in to online videos to help them choose new cars. Consumption of test-drive videos has grown by more than 65% in the past two years and 64% of those viewers say they'd buy a car sans test drive as long as they could watch a 360° video.
Video is essential for successful automotive marketing strategies, but it doesn't need to be time-consuming or expensive to create videos. Use Moovly's automatic video maker to automate your video creation. With Moovly, you can create video templates and automatically import your content into each video, allowing you to create a handful of videos in a matter of minutes.
Here are some ideas that your customers will find valuable in their car-buying journey:
Test drives of popular models to help viewers narrow down—

or confirm

—their purchase

Tutorials addressing common questions your dealership gets like how often to get oil changes

Dealership tours to help potential car buyers get a feel for your dealership and build trust with you

Informative videos for specific demographics. Examples include tips for first-time car buyers, a how-to video detailing how to trade in your car (

for people ready to purchase a new ride

), or videos outlining the best cars for families.

Informative videos outlining features and benefits of the models you sell
Through Moovly's templates and video automations, you can create many of the above videos in a single sitting.

2. Create tailored social media ads
Ads on social media aren't anything new, and you might have dipped your toes already into the world of social media advertising.
But in 2022 and beyond, the types of ads you serve your audience will differ from those you may have used five or even two years ago. Online research shows 71% of consumers prefer personalized ads, and for your ads to succeed, they must be highly relevant. Generic ads that serve a broad audience won't cut it. To stand out in the social media advertising space—and drive sales—you must create personalized ads that resonate with a specific segment of your audience. 
The easiest way to create personalized ads without spending a fortune is with automated videos. Connect Moovly to your CRM to automatically deliver ads targeted to specific segments of your audience.
Here's how that might look.
Let's say your CRM keeps track of the date people purchased a car from you. Ideally, you want people to trade in their cars before the five-year mark rolls around. This way, you get a sellable car back and can upsell your customer to something newer.
Using Moovly, create automatic videos tailored to people who purchased vehicles in a specific year, encouraging them that it's time to trade in for some new wheels. 
While this is just one example, it proves how powerful your social media ad strategy will be through automatic video ads. Now, you can quickly create different types of personalized ads, test which ones perform best, and increase your sales as a result.
3. Build relationships via your email newsletter
Did you know that 59% of consumers claim automotive companies didn't contact them after purchasing their cars? Considering the majority of profit for car dealerships comes from post-purchase activities, this is a major missed opportunity on behalf of dealerships. Think service reminders, new car offers, seasonal tire swaps, etc. Further, developing close relationships with your buyers can spur word-of-mouth referrals and help you acquire their friends and family as customers. But having your sales team call all your customers is costly and time-consuming. 
Email is a cost-effective way to stay connected with your customers post-purchase. But just like social media ads, segmentation and personalization are absolute musts with email marketing. In fact, personalized and segmented emails can increase email revenue by 760%.  
The most popular way to personalize emails is by addressing your subject by name. But that's the bare minimum, and now, customers expect much more personalization.
The solution? Automatically create videos tailored to specific segments. Create tips and helpful information for each car model to send to buyers. They'll appreciate receiving useful information, and in turn, your dealership will remain top of mind when it comes time to refer a friend or get a new vehicle.
You should also use your email list to ask buyers for reviews, which brings us to the next point.
4. Make use of online reviews
Online reviews are non-negotiable. Not only do 88% of people trust online reviews as much as personal recommendations, online reviews help your SEO (which we'll discuss later on). 
Collecting reviews is easy if your dealership builds an email list full of happy customers. But after the five-star reviews start rolling in, what should you do with them? Most businesses miss the opportunity to be proactive with their reviews, instead, waiting for prospects to search them up on Google or Facebook to read their glowing ratings. 
But waiting for prospects to come across your reviews isn't a solid strategy. Instead, use Moovly to create videos with your five-star reviews automatically. Through automation, you can ensure your videos contain your most recent reviews without collecting them yourself. Post your review videos on social media, feature them on your website, and email them to your email list.
5. Advertise on third-party sites
Since 80% of all car buyers use third-party sites like AutoTrader during the buying process, advertising your inventory on third-party sites will complement your automotive marketing strategy. There are two ways to advertise your dealerships on these sites: listings and advertisements
Listings
Sponsor listings on third-party websites to bring your inventory to the top of the search results. Whenever someone searches for a vehicle you carry, you'll be at the top of the results.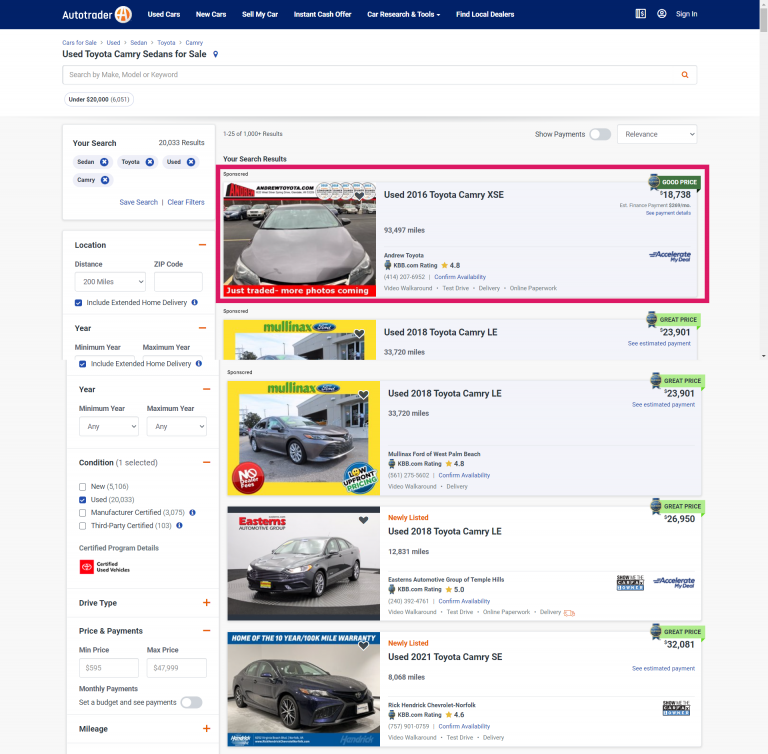 Display advertisements
Display ads are a bit different. Through these, you can place both images and video ads on websites your prospects visit.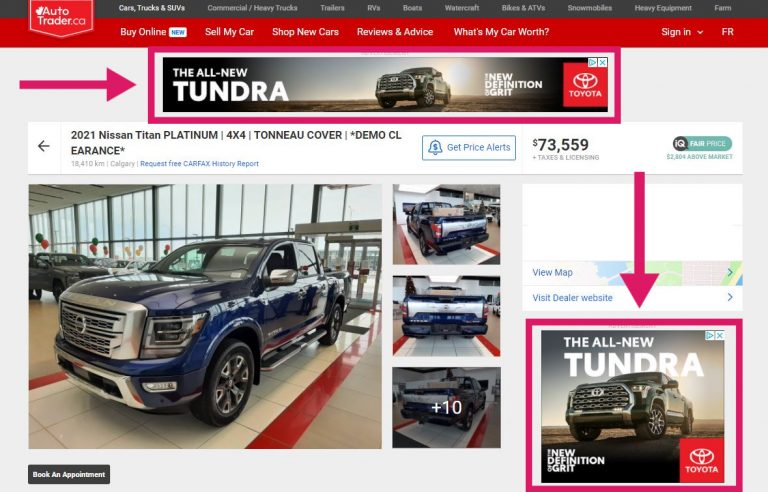 Use display ads to showcase your inventory to interested buyers on other websites. Image via AutoTrader
For smaller sites, you might be able to reach out directly to the website owner and negotiate a deal where they place your ads on specific pages for a set amount of time. But in most cases, you'll work with a programmatic advertising platform that works to place your ads on many of the sites your buyers frequent, including third-party sites (if they run ads), meaning you don't need to manage where your ads end up.
With Moovly, you can automate creating different video ads, allowing you to mix and match images, text, and videos to test which ad delivers the best results.
6. Improve your search engine optimization (SEO)
You're not alone if SEO makes you want to run for the hills. But with 92% of car buyers heading to Google to research vehicles before deciding which to buy, you can't afford to ignore it.
Luckily, ranking your dealership's website high isn't as difficult as you might think. Here are a few quick and easy ways to improve your SEO right now and land higher in the search engines:
Add relevant keywords to each page

. For example, if you're a Toyota dealership in Los Angeles your homepage needs to have the keywords "Toyota dealership in Los Angeles".

Create a Google Business Profile

and fill out your location, business hours, and contact information.

Encourage customers to leave reviews

on your Google Business Profile (good reviews can boost rankings).

Join Google's Cars for Sale program

to get your car listings ranking in the search results.

Name your images properly and write alt text

to increase the chance they'll rank in Google Images.

Create a YouTube channel to upload all your videos

. Since Google owns YouTube, Google often places videos in search results, helping you get more traffic.
You can also experiment with paid Google ads to drive more traffic to your website.
Digital marketing for automotive companies
Automotive marketers understand that great automotive marketing campaigns don't need to be complex to be effective. By creating highly-relevant and specific videos for your target audience, you can aid their car buying process and get more sales.
Ready to try? Download the video automation guide to help you automate your automotive marketing strategy.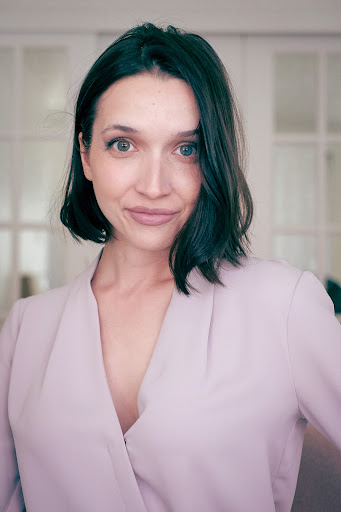 Dana is a freelance writer who works closely with B2B SaaS brands to create content people enjoy reading. When she's not working, you'll find her sipping on a warm cup of tea and reading a good book (the scarier, the better). See what she's up at www.dananicoledesigns.com 
Create your own automated videos now