It seems everywhere you turn people are touting the importance of video.
Platforms like TikTok are rapidly growing. People turn to YouTube for both entertainment and informational purposes. And teams rely on video to send and share messages with one another.
But will video truly have an impact on your business or is it just another task you begrudgingly check off your to-do?
That's what we're uncovering today as we dive into 11 concrete benefits of video for both internal and external use.
Importance of video internally
When you think of adding video to your corporate strategy, things like Instagram Reels, TikToks, and YouTube videos are top of mind.
But the benefits of videos extend to your internal videos—ones you circulate within your organization—as well.
Let's look at the top five reasons you should add videos to your internal communication strategy.
1. Videos provide a consistent message to employees
When you record a video, employees receive the same message no matter where or when they watch that video. But the same can't be said for other forms of communication. 
Take instructor-led training, for example. With instructor-led training, you rely on a single person to deliver an identical experience across several training groups.
But it's near impossible for each session to be exactly the same. One day the instructor might be tired and deliver a disengaging session that causes employees to zone out. Another session might have participants who ask questions that facilitate a worthwhile discussion missed by those not in the group.
With instructor-led training, each session varies, and employees receive slightly different messages. But with training videos, training sessions are consistent across the entire organization. 
2. Videos save costs by streamlining internal communications
Do you know the game telephone? If not, here's how it works: one person whispers something in someone's ear, and then that person whispers what they think they heard into someone else's ear, and so on. The game goes on until the message makes its way back to the original speaker, and usually, by then, it has turned into something completely different from the original.
That's how internal communication works when you have no way of streamlining it.
You may rely on multiple channels and multiple people to get your message across: email, meetings, memos, Slack channels, and more. And with so many middlepeople, your message is bound to get twisted along the way. But with video, your message doesn't become convoluted as it gets passed along. Videos preserve messages in their original form, and employees receive a clear and consistent message each time.
3. Videos improve remote work
2020 brought a rise in work-from-home culture, with many organizations opting to stay remote or adopt a hybrid model. But one major challenge is maintaining collaboration while apart. Before going remote, the easiest way to have a conversation with someone was to pop into their office quickly.
But with that option gone, more people rely on email for all their communication needs.
While cold emailing might seem like the easiest solution, it's often not the best. With email, it's challenging to convey emotion, and there's lots of room for misinterpretation. We've all received an email where the sender came off cold, even if that wasn't the sender's intent. And according to employees, email communication causes them to feel stressed when they misinterpret your message. 
But with video content, it's much easier to convey tone, so employees don't need to "read between the lines" to interpret emails. While it doesn't make sense to replace emails with videos fully, there are times when videos are better suited. Think explaining internal changes to your team, discussing a time when your strategy will be changing direction, or drumming up excitement over milestones.
Using Moovly's online video editor, you can record videos using your webcam right within the editor, making it easy to put together videos. And with the click of a button, you can add automatic subtitles for those who watch with sound off.
4. Videos improve and reduce costs for your onboarding process
Training and onboarding are expensive tasks, costing $1,286 per year to train a new employee. What's more surprising is that in a study conducted by Gallop, 88% of respondents weren't impressed with their company's onboarding process. That's a massive amount considering that employees who have a negative onboarding experience are twice as likely to search for another place to work.
Training videos can drive training costs down and increase retention rates. With in-person training—like buddy-systems—you rely on various people to provide new hires with a consistent training experience. There's lots of room for error, and it can be tough for new people to absorb so much information without being able to revisit it.
But with training videos, your message is the same every single time. You can create effective training videos once and use them repeatedly. Training videos eliminate inconsistent training and get new hires up to speed with the rest of your teams. Plus, new hires can revisit training videos to re-watch parts they may have forgotten or didn't fully understand the first time.
5. Videos are more effective at engaging employees
There are many instances where you need to engage employees. For example, your company introduces a new complex software, and you must teach teams how to use it. But thick training manuals are boring, and you don't want to risk people glossing over them. 
The solution? Videos. 
83% of people say they prefer instructional videos over training manuals. For one, videos give employees multiple ways to access material: they can watch it, listen to it, or read subtitles.
Videos are an accessible alternative to training manuals, which don't give people other options aside from reading. Secondly, it's science—our brains love and respond to visuals over static text. Giving employees videos over stacks of paper will delight their brains.
Importance of video as a marketing tool
We now know how essential video is for internal teams, but what about for marketing efforts? Here's how videos will transform your marketing strategy.
6. Videos help your search engine optimization
Search engine optimization (SEO) is the process behind ranking high in the search results. Many factors work together to boost your rankings, one of them being the amount of time people spend on your page.
If people spend lots of time going through and reading your content, it signals to Google that your content is useful.
Adding videos to posts and pages gives readers something extra to do while visiting your site. As they click and watch your videos, they'll spend more time on the page, showing Google that your content is engaging, helping you rank higher.
However, it's worth noting that the mere act of adding videos to your pages won't necessarily increase rankings. The videos should be relevant to the page and valuable for visitors, otherwise, viewers will skip them, and your rankings won't improve.
7. Videos build brand affinity
It's easier selling to existing customers than it is acquiring new ones. Building customer loyalty into the heart of your sales strategy allows you to tap into your existing customers and increase sales.
But how do you build customer loyalty? One way is building brand affinity—when your audience feels you share similar values to them—as 89% of American consumers say they are loyal to brands who share their values.
Videos make it easy to communicate your company's values. Rather than simply talking about your values, using corporate videos lets the viewer see your values in practice, making it more believable.
8. Videos have a high ROI
One major importance of video is its high ROI. When it comes to Facebook ads, video ads drive 48% higher sales compared to static imagery. And the great news is that your video ads don't need to be complicated to drive sales. Take a look through all the Facebook ad examples we compiled to see how big brands are using simple videos to drive sales and awareness for their products.
You can create stunning videos with Moovly's Facebook ad maker. Our drag-and-drop software lets beginners and pros create videos that stand out and sell your products. The best part? It's much more affordable than hiring a videographer to create ads for you. Keeping costs down will leave more room to increase your ROI.
9. Video consumption grows every year
Understandably, brands don't want to hop onto trends too quickly, otherwise, they might fizzle out and waste resources.
But as people watch more videos every day, you can rest assured that video marketing isn't going anywhere.
From 2019 to 2021, Zenith Media forecasted a 20% growth in watch time—from 84 minutes to 100 minutes per day. Compare that to 2015, when people only spent 76 minutes per day watching video.
With those numbers in mind, you can feel confident that adding video to your strategy is a stable investment you can depend on for years to come.
10. Videos are more likely to go viral
Another importance of video is its ability to go viral potentially. A piece of content goes viral when enough people begin sharing it, eventually snowballing into millions of views. And while going viral shouldn't be the goal of your content (providing value to your audience should be), amassing millions of free views is a perk closely related to videos. 
Because videos generate 12 times the shares compared to text and images, it's much easier to reach a wider audience through your videos and maybe even go viral in the process.
11. Videos can increase click-through rates in email newsletters
Email marketing brings an average of $35 for every $1 spent, but many businesses don't know how to leverage the power of email to its full extent.
Before you can have a high ROI on your email drip campaigns, you need a high click-through rate (CTR). Your CTR is the number of people clicking on the links in your emails. 
With email marketing, one way to increase the CTR of your newsletters is by adding a video as videos increase CTRs by 65%. Adding videos entices subscribers more than a plain-text link or a button.
Here are some different video ideas to incorporate video into your email newsletters:
Create an explainer video

for the top of funnel/cold subscribers educating them about your offerings

Create a video for people who are warmed up to your brand answering their burning FAQs

Send corporate videos in your welcome email so new subscribers can learn about your brand and you can build brand affinity

Send how-to tutorials for current customers to learn how to use your product better, and to upsell them on adjacent offerings
One thing to keep in mind is not to embed your videos within your newsletters. Lots of email hosting providers don't support embedded videos. Plus, embedding them doesn't contribute to your CTR since readers don't need to click away to watch the video. 
Instead, embed a GIF or a screenshot of your video that hyperlinks to a page on your website with the video. This way, readers will click to watch the video and land on a page where they can potentially buy your product.
Make your next video — for free — with Moovly
The importance of video is undeniable. Brands that incorporate video into their internal and external communications strategies will reap the rewards in 2022 and beyond.
Moovly is the perfect tool to create videos for your business:
We're trusted by complete beginners and pros.

Our drag-and-drop video editor is intuitive and easy to use but still powerful and precise. For beginner video editors, we have

pre-made templates

or the ability to turn PowerPoints into videos. People who want more freedom can start from a blank slate. And with the millions of graphics, sounds, photos, and videos in our media library, you don't need to worry about making your own content (although if you want, you can do that, too!).
Our long list of features lets you get as creative as you want.

From green screen capability to automatic captions, you can whip up a professional video in a snap. Record with your webcam right in our editor, or use our screen recording feature to capture elements from your screen.
Integrate your Digital Asset Management (DAM).

Moovly

integrates with popular DAMs

so you can keep videos on-brand with the internal assets you already have. And if we don't currently integrate with the DAM system you use, we'll create one specifically for you.

Collaborative features let you work on videos together, apart.

Give access to team members so everyone can work together to help bring your videos to life, even if you aren't in the same room.
Ready to experience all the benefits of video? See for yourself how powerful and easy Moovly is with a free account! Sign up here.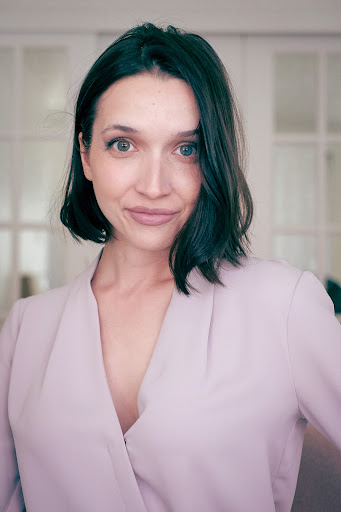 Dana is a freelance writer who works closely with B2B SaaS brands to create content people enjoy reading. When she's not working, you'll find her sipping on a warm cup of tea and reading a good book (the scarier, the better). See what she's up at www.dananicoledesigns.com 
Create your own video now